Learn easy tips to layer die cuts to build a scene on your handmade cards.
Creating a scene on a card is super easy when you layer die cuts to build it up. For instance on this card, Carol created depth in the sky with layered die cut clouds and then added a ton of perspective to her grassy knoll with some die cut strips of grass. You clearly get a sense of there being a whole scene you can practically step into and it's all so easy to do! Let's let Carol show us how.
Carol started from the ground up by using our Slimline Hills and Slimline Grass dies to cut a grass layer and two hill layers from green card stock. Carol says "I highly recommend getting the slimline dies for your scenes–these work for any size card you want to make!" She also cut some green gingham paper with the Slimline grass die and then trimmed all these pieces to 4 ¼" wide to fit her card front.
She added some shading to one of her hills with Juniper Color Fuse Ink from Set #11 with her blending brush. Carol then adhered all four layers together with liquid glue, adhering them together only at the sides and very bottoms of each piece to be able to tuck in her detail elements.
For her sky, Carol cut layers from white card stock using our Slimline Cloud dies. She then stenciled some Beachside Color Fuse Ink from Set #9 over these pieces using our Clouds stencil. The combination of the die cut layers and the complementary shapes on our stencil – quite intentional – create these puffy, fluffy clouds that look so real!
While she had her stencil and ink going, Carol added more of this cloud detail at the top of her white card base.
Now she began to layer these die cuts over each other to build out that dimension. She adhered her most narrow cloud layer closest to the top of the card base with her tape runner. Then she added dimensional adhesive to the back of her larger cloud layer die cut and adhered that overlapping the flat layer and lining up the bottom of her die cut piece with her card base.
Because that cloud layer lifted the scene all the way to the bottom, Carol adhered her hills element flat with her tape runner. For just a touch of depth, Carol added a little more Juniper ink around the whole green area at the bottom of the card along the edges. This helps to "contain" the scene and focus the eye inward to the feature elements.
Speaking of those elements, Carol stamped her choice of images from our Bunnies and Flowers stamp set in Copic-friendly black ink and colored them in with her Copics. When they were all cute and colored, she cut them out with our coordinating die. While she was stamping, Carol stamped her sentiment from the same set onto a scrap of white card stock and trimmed it into a close rectangle. She layered this on a mat made from a scrap of black card stock and added some black foam squares to the back.
Following the same idea she did to layer die cuts for the background, Carol tucked her elements into her scene, first without adhesive to get it just so. When she was happy with her arrangement, she adhered them into the scene using liquid glue, giving her the "wiggle time" to get them exactly positioned. To ensure that her flower pot filler – her pretty spring flowers – would integrate with the perspective of the scene, she added this piece with a little dimensional adhesive.
For her final touches, Carol added her sentiment and a few little butterflies cut using our Small Butterflies Die shaded with Copic markers and a sweet little bow on one of the bunnies' heads.
Here's what Carol used today to bring this scene to life: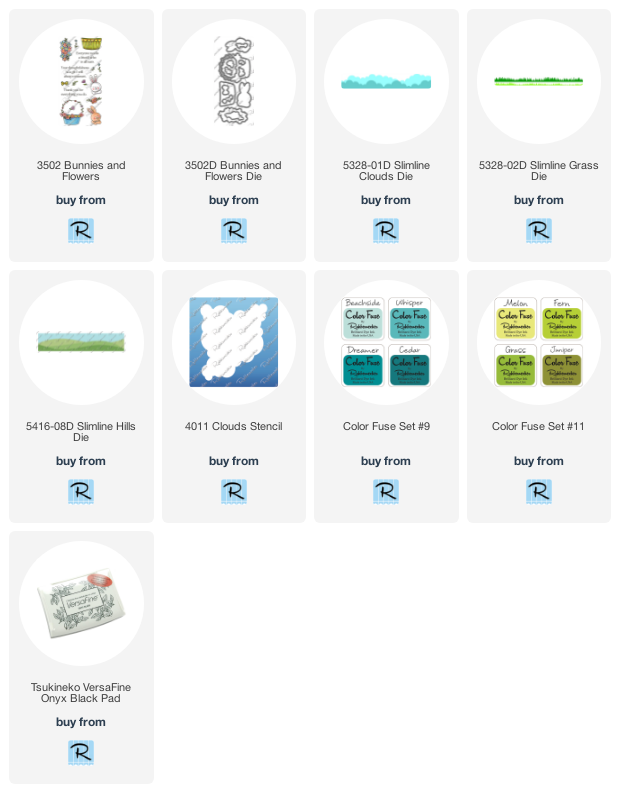 These simple ideas to layer die cuts can really change the whole feel of a card and it's so easy to do! Try out any one of these – or all of them – and create a card that your friends will want to step into and hang out in!