How sweet and charming is this
die cut mini slimline card?
Some cards give you the instant feels and this die cut mini slimline card makes us want to run and make a tall glass of ice cold lemonade and sit and chat and soak up the sun! Jean has put this together for us and one of the most magical things about it – aside of that summery vibe! – is that this card was made almost entirely using our dies! Don't you just love it when the "hard work" is done for you?
Let's work along side Jean so we can create one of these, too!
Start by cutting all your die cuts:
– Cut a frame using the largest die in our Mini Slimline Tabbed Scallop Stitch set from white card stock;
– Cut your fence with the Peak Fence #4 die set from white card stock;
– Cut rope for the planters with the Macrame Planters die from white card stock scraps;
– Cut the plant pots with the Macrame Planters die from scraps – Jean chose two shades of teal;
– Use our Beach Chairs die and cut two chairs from red card stock;
– Cut greenery with Leaves and Greenery die from green card stock;
– Using our Small Butterflies die, cut butterflies from scraps of card stock;
– Cut flowers from the yellow, orange, and red card stock scraps with the Small Flowers #4 and Tiny Flowers #2 dies.
PHEW! But when you are making a die cut mini slimline card with as many details as this one has, all that work is done with these dies!
Now take a piece of green card stock and stamp your sentiment on it with Versamark and heat emboss with white powder for some pop and contrast.
Using our Slimline Grass die, cut that piece of green card stock so the grass edge is about 1/4 of the way up from the bottom of the card. Lay your frame over the piece, lightly mark where the outside edges are and trim with your paper trimmed just inside those lines. Adhere your little fence piece behind the grassy edge.
Adhere your little plant pots to the back of the macrame hangers.
See below for the reverse alignment.
Now adhere your grass/fence element to the back of your frame. Attach a piece of yellow patterned paper trimmed to fit the frame on the back, letting it overlap the grass a bit to prevent any gaps. Now add your whole background assembly to a white mini slimline card base.
Start your decorative elements by adhering your beach chairs with thin dimensional adhesive, allowing them to overhang the frame a little on either side. This method opens up the scene to the eye and mentally creates a feeling of invitation.
Add your planters with a little of that same thin dimensional adhesive behind the pots, tucking the ends of the hanger rope just under the edge of your frame.
Shape your flowers using our Paper Blossom Tool Kit. Add liquid enamel dots to centers and set aside to dry.
While the flowers are drying, arrange your greenery in your planter pots with liquid glue and add your butterflies. When the flowers are dry, add them to your scene.

Seriously, are you just ready to plop right down on one of those chairs and share some juicy stories with a friend? Here's what you will want to have on hand to make one of these adorable cards: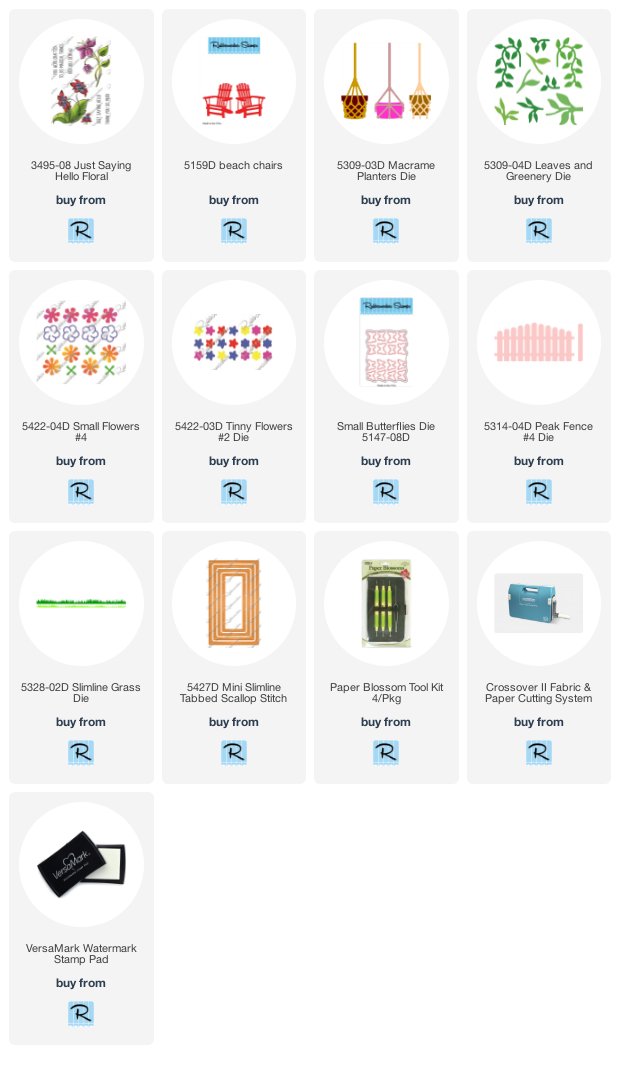 This die cut mini slimline card is perfect for lots of different occasions – it being non-event specific but clearly speaking of companionship could be "read" to mean so many things. And you can switch up all the colors and sentiments to your creative heart's content. Save this idea because we suspect you will come back to it again and again!