See one of our favorite realistic looking distress ink backgrounds for cards!
There are loads of fun ideas for creating distress ink backgrounds for cards and this one we especially love because it really brings our Cobblestone Background stamp to life! Melinda saw a fun watercolor tutorial on creating a rock wall and decided to recreate that cool, shaded, mutli-color look using our stamp as a short cut. We think she nailed it! Let's learn how to do this.
Take a piece of watercolor paper and lined it up in your stamp positioner. Note: it will be important to use a stamp positioned with this idea to make sure you are able to retain all the right details in all the right places. After securing the paper in place with the magnets, place the stamp face down on the paper and close the lid, pressing firmly to attach the stamp.
Ink up the stamp with gray distress ink (or oxide ink) and stamp. Immediately, give the stamped image a spritz of water from a mister to "loosen" and move the paint. Dry the surface with your heat tool.
Repeat the stamping with a blue green distress ink (or oxide), spritz liberally and dry again.
Next, use light brown distress ink (or oxide) and swipe here and there randomly over some of the stones to add more dimension and texture – spritz and dry as above. For the final, magical step, stamp a final layer with Slate Color Fuse.
You can see how getting that subtle blending from the different distress inks and then the crisp detail of that final stamping gives a fabulously dimensional look!
Now cut your super cool background with one of our Nested Rectangle with Pierce dies and add a frame from our Rectangle Combo OPC (One Piece Cut) dies over the background with a little dimensional adhesive.
For the butterfly, take a scrap of watercolor paper and give it a good coating of water. Apply some watercolors – Melinda used Ken Oliver Liquid Watercolors in Cadmium Scarlette and Orange – to the wet paper and let them flow together and dry. Use our 2 Part Butterfly #3 dies and cut the bottom layer of the butterfly from your custom watercolor paper and the top from black card stock. Adhere them together and add them to your rock wall.
For the greeting Melinda used "you rock" from our super popular Thanks set stamped in black on white with a tiny black mat. She added this with foam tape to match the dimension created by the white frame. She added it all to a card base with some adhesive tape and this beauty was ready to WOW!
Isn't this SUCH a fun way to use your distress/oxide inks? Here are the other things Melinda used today: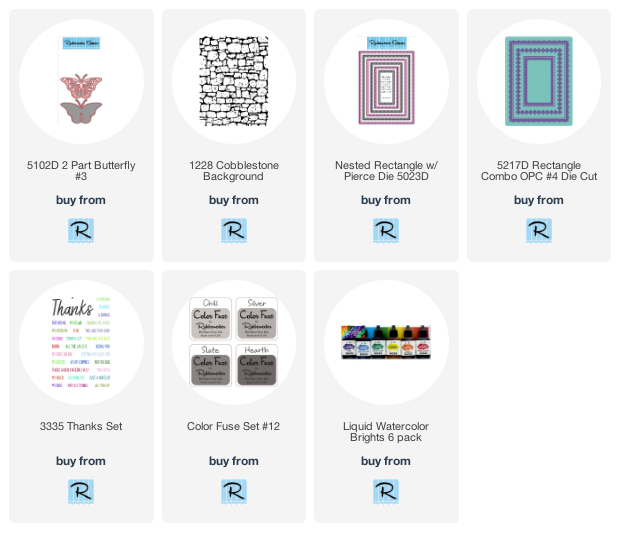 nbsp;
This is just one of the zillion distress ink backgrounds for cards that can be made with our huge collection of background stamps and we think it's so fun and can be used so many ways. Give it a try, use your own color ideas and have fun building gorgeous stone walls from the comfort of your crafting spot!