This card is super easy to make using distressed mica stain sprays – get some tips and learn how to make your own sprays!
Today Natasha has created a beautiful card using one of our brand new background stamps and some distressed mica stain sprays to give it a beautiful, barely-there-shimmery watercolored look. This technique is so fast and easy and since every card will be a little different, it's a very fun way to express your creativity when you have just a small slice of time.
Read through because we will share a recipe for you to make your OWN mica sprays using your favorite Color Fuse Ink shades so you can have complete color coordination.
Let's get the details on the making of this card so you can get creating right away!
Start with a piece of watercolor paper and your mica sprays. Natasha used Distressed Mica Stain sprays but you can use any spray ink you like and get similar results. This technique really is so easy it seems almost silly to call it a technique! Simply spray your inks over your watercolor paper however you like, spritz with a little water to get some movement and texture and dry with your heat tool. Then respritz and blot with a paper towel to lift the ink to add that dynamic look of droplets.
Repeat this process until you love what you see! Remember, you can't go wrong – if you end up with something that doesn't fit your vision for what you want today, save it. As we've seen so many times from our amazing designers, sometimes that piece you made today that you can't use now becomes the perfect thing you need for a future project.
When your piece is entirely dry, apply your anti-static powder tool to prevent any stray powder from adhering and stamp the panel with Versmark ink on our new Fall Twig Background stamp. Heat emboss with white embossing powder for some bright contrast. PRO TIP: Depending on the colors of your distress mica stain sprays and the purpose of your card, this would also look AH-mazing with a metallic powder!
Add some metallic splatters using colors that coordinate with your background colors for even more dimension and to echo the shimmer in the sprays. When those are dry, cut out your beautiful panel using a die from our Nested Rectangle with Pierce set. SAVE BOTH PIECES!
Adhere the outside "frame" to your card base. Then adhere the inside rectangle to the card base with some dimensional adhesive. This mini-technique is a super fast and beautiful way to create the look of your design "running off the edge" which creates a TON of visual interest.
Using our Birthday Script with Shadow die set, cut the shadow from a scrap of white card stock and the script from a scrap of black; adhere together with liquid glue. Using our Shadow Words and Build a Phrase #1 sets, stamp your choice of words and trim down closely. Adhere to your card as you wish. Add a few sequins for more shine and you are done!
Here are the items Natasha used today to create this spectacular card: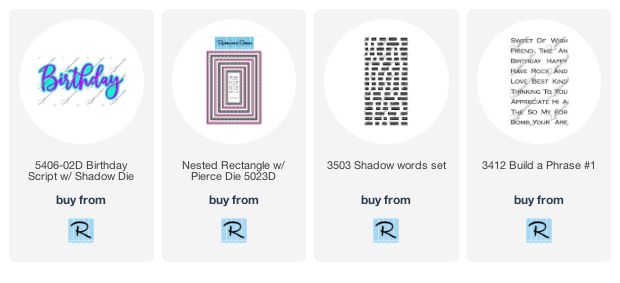 Make your own mica sprays!
Now, if you would love to make your OWN mica sprays using our beautiful Color Fuse Ink colors, you can! You will need empty spray bottles, 91% alcohol and some mica powder. You can get mica powder in craft stores, here on Amazon or dig through your stash and see if you have any PearlEx hanging around. NOTE: You will want to use clear powder if you want to make your own colors OR you can just use colored powder and skip the ink drops.
To make your own shimmery sprays, put about 3 ounces of the alcohol to your spray bottle. Add 1/8 teaspoon of your mica powder to the alcohol and shake like mad. Now add a few drops of your ink from your choice of Color Fuse Reinkers and shake again. PRO TIP: Depending on the spray bottle you get, you may need to trim a bit off the tube at the bottom; you don't want it to touch or curl around the bottom of the bottle to prevent clogging.
Make your own sprays or grab some distressed mica stain sprays and try out this quick, easy and fun way to make a card! We'd love to hear if you try this out and what you think so leave a comment here or share your project on our Facebook page so we can all ooh and aah!