Get a great idea for cute handmade Halloween cards using one of our brand new sets and brand new Paper Pads!
Today's idea for super cute handmade Halloween cards come to us from Lisa and we are loving her charming little chums all dressed up and ready to stroll! We also love how she uses some bold patterned paper from our new Spook-tacular Paper Pad in the background and are excited to see how stinkin' adorable it looks on this card. Let's see how she did it so we can make one, too!
First, Lisa, stamped, die cut and colored all the images from our new Pumpkin Dress up set and the coordinating die. We love that Lisa is willing to share her "oops" in this pic. She says "I made a mistake on the ghost pumpkin and started coloring his sheet orange… but I rarely start over… I've become very good and covering up mistakes!" Doesn't it make you feel like you are not alone to know that even our professional grade Design Team sometimes have the same issues we do?
Next, Lisa die cut the haunted house all in black. Because it will be part of the silhouette look of the background, all black is perfect! She added the details pieces she thought would accentuate the house and saved the rest for future projects. Lisa says she likes to pull the picture from our store up on her device to spot where the detail pieces go – SMART!
Lisa also used our Bats and Spiderwebs die to cut some black webs, our Ghosts die to cut scraps of white card stock and then the gift sack from our Santa Mini Die also from a white card stock scrap. While she had her die cutting machine out, she cut one of the zig zag printed papers from our Spook-tacular Paper Pad using the largest die in our Nested Rectangle Small Stitch die set.
She also used both dies from our Polaroid Tabbed die set to cut a piece of black card stock. Lisa says "I won't use the smaller frame until later but since I had the space to cut it for future use, I did it now and popped the extra die cut in with the dies to have it handy."
Lisa colored the sack with orange Copics and then fussy cut one of the pumpkins from another sheet in the Spook-tacular pad and added it to the front of the sack, turning it into a super sized candy collector!
To start building her card, Lisa layered the zig zag pael onto a piece of orange card stock cut to add a border of ⅛" and then onto a back card base. She adhered the larger polaroid frame to her card with some dimensional adhesive, added the haunted house into the scene with the same adhesive and adhered one of the black webs into the upper left hand corner of the frame. She tucked one of the ghosts into the scene, adhering it to the back of the roof of the house to make it look as if he was peeking over the top.
Then she arranged her characters and accessories across the scene, adding a little candy sticking out of the top, using varying thicknesses of dimensional adhesive to add some depth to her scene.
She stamped her sentiment in purple, trimmed it down and then added it with just a few sequins for some wink of shine.
We know these little costumed gourds are to-die-for cute but Lisa took them to a new level on this colorful card! Here are the goodies she used so if you love this card, snap up what you need and get stamping!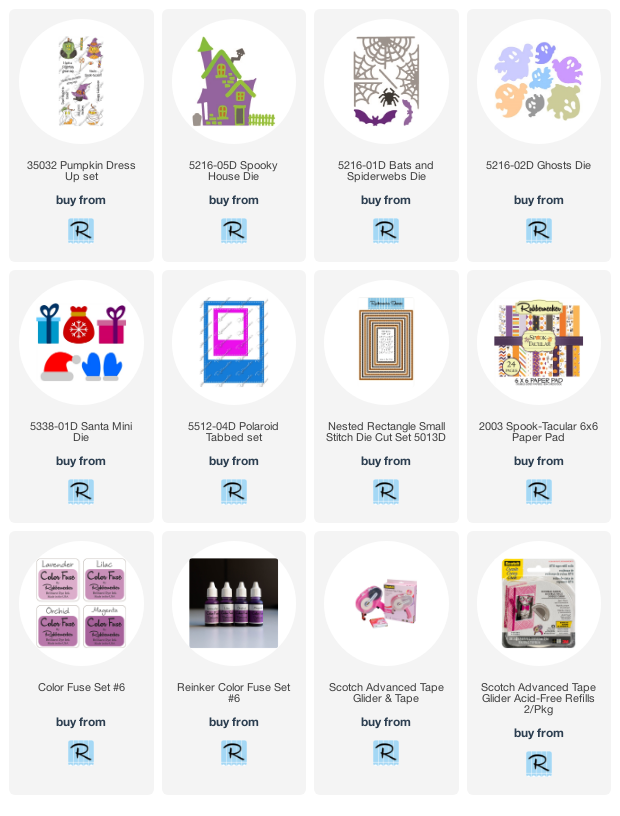 Something that we especially love about this idea for cute handmade Halloween cards is that, with 17 different patterns and two of each in each Spook-tacular Paper Pad, you can make a whole pumpkin full of adorable Halloween cards with one pad! Stamp a whole stack of these cuties, grab your markers, plop down in front of Netflix and make a treat for everyone!