See the new Rubbernecker Autumn Leaves Paper Pad in action using a revived technique!
The feedback we've been getting on our brand new Rubbernecker Autumn Leaves Paper Pad – all three of them, actually – has been so gratifying and all of them are flying out of here at a speed that rivals a scene out of a Harry Potter movie! We are so glad and yes, we have a big reorder on the way to keep them coming in and going out!
Today, we have a beautiful card from Carol where she's revived a classic technique and we think it's never looked better! Carol says "I've been seeing other crafters using torn paper edges and distressing making a resurgence. I thought the new patterned paper is perfect to give it a go!" This card sure shows that she is right on target. Let's take a closer look.
Carol chose two pieces of the beautiful paper from this Autumn Leaves Paper pad – one with an all over leafy patterns and one in a complementary yellow gold, trimming both to a card panel size. She tore off the top third or so of the leafy paper at a diagonal. PRO TIP: Be sure to tear the paper with your dominant hand, tearing up toward you. This will expose a nice uneven edge of the white core, which is what you want. And be sure to save the torn-off piece!
With Cinnamon Color Fuse Ink from Set #3, Carol stamped our French Script Background stamp onto the yellow piece. She then used her distressing tool – you can use the blade edge of a pair of paper snips – to distress all the edges. She then used Pecan Color Fuse Ink from the same set to add some color to these distressed edges.
She then took her torn-off scrap of the leafy paper, flipped it over and inked the edges with the Cinnamon Color Fuse Ink, repeating this with the larger piece of leafy paper on the patterned side.
Carol says "You can see where I did a test for stamping on this new paper. It has an extra smooth surface and I wasn't sure how the ink would react. I learned that dye inks, such as the Color Fuse inks, stamp beautifully on it!"
Next, test layer your two torn pieces together and tear down any ares to get them to line up in a way you like. You may have to trim the flipped over piece a bit to get it to hide behind the leafy piece.
When you have them to your liking, adhere them together and then adhere them to a white card base. Glue the layers to an A2 card base.
Now, custom die some ribbon with Color Fuse Re-Inkers! Before we begin, Carol recommends wearing a glove to avoid a day's worth or so of inky fingers and a craft pick to hold the ribbon when you dry it with your heat tool.
Starting with you favorite white ribbon – Carol used a satiny organza – and cut three pieces roughly the same length. PRO TIP: Depending on the material of the ribbon, it may crinkle up when you heat it. Keep this in mind as you cut your lengths.
With your first color – Carol used three – drop a couple of drops of Color Fuse Re-Inked onto a craft mat. Spritz with just a bit of water to dilute the ink. Pat your ribbon into the color, moving it around to get it fully dyed. You can use a paper towel to soak up extra ink and press it into the ribbon to add color where needed. You can blot the ribbon with more clean paper towel to lighten the color a bit if you like.
Hold down the end of the ribbon and use your heat tool to speed the drying. Hold the tool further away than you do when heat embossing powder because many ribbons do have the tendency to scorch!
Repeat these steps with the other colors you've chosen. This creates the most perfectly coordinated, custom colored ribbons for all your projects!
While your ribbons are finishing drying, make your tag. Cut a piece of white card stock with the second largest die in our Nested Tag Stitch set and using the Pecan Color Fuse Ink again for continuity, ink up the edges and a bit onto each bottom corner.
Stamp the sentiment from our new Fall Happiness set in black toward the top of the tag. Stamp the book and mug image from the same set onto a scrap of white card stock, color it in with your favorite media – Carol used her Copics – and cut it out with our coordinating die. Adhere it to the bottom of the tag.
Thread your custom colored ribbons through the hole and then tie them off with a piece of jute or twine; trim the ribbons all to the same length or different lengths for more texture.
Pop your tag onto your layers with some dimensional adhesive and add a few sequins around it for a little sparkle. Just lovely!!
Here are the items Carol used today – grab up what you don't yet have to make this beautiful project: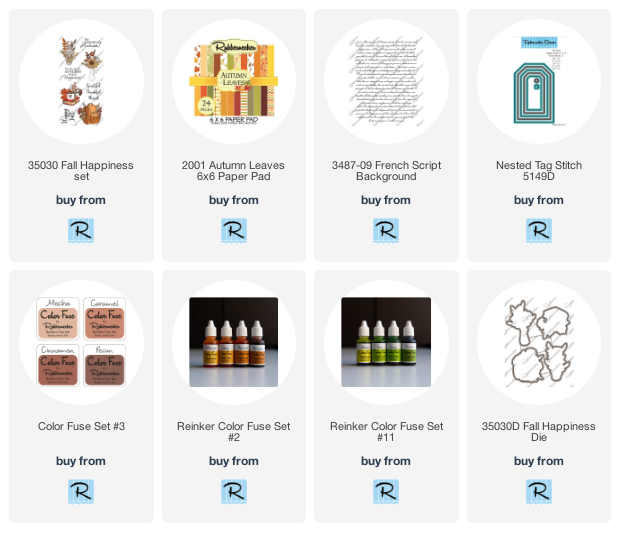 We can see so many pattern combinations from the new Rubbernecker Autumn Leaves Paper Pad being used in this style! Tell us, does this card inspire you to try our new paper with this classic technique?