These DIY Christmas gift tags might save the day!
We are closing in on the holiday and we think this idea for some quick and easy DIY Christmas gift tags might just end up being a lifesaver! How many times have you run out of those stick-on ones or, worse, discovered they won't STICK to your wrapping paper! ARGH, right?
One of the best things about making your own gift tags is that there will be no question which gifts are from you! We love to wrap every gift in plain old white or kraft butcher paper we can get rolls of at the dollar store and then add pretty handmade tags as the sole decoration – they really stand out! Plus you can use up so many scraps when you are making these giftable works of art.
As you take a look at these beautiful creations from Jamie, remember that DIY Christmas gift tags do double duty because if you are in need of an "instant card" you can just pop one of these beauties on a card front and – VOILA!
To start, Jamie cut lots of white, kraft and gold glitter card stock with the largest shape from our Nested Tag Stich set. She then ran some of the kraft and white tags through her machine again with our Circle Lattice Die in the center, changing up the looks of each tag by keeping some of the small design element pieces intact in the die cut.
Jamie layered these die cut pieces together in a variety of combinations, making sure to apply her adhesive to the backs of any of the little die cut pieces she left in place.
Now that her tag bases were done, Jamie turned to her fun details. She used our Evergreen Tree die and cut several different patterned papers, shades of green card stock and more colors of glitter card stock.
Because she was intending to use these for her Christmas packages, she used the sentiment from our Santa Post Card set and stamped onto some scraps of dark green card stock with Versamark and heat embossed with white powder and more with Clover Color Fuse onto white scraps. She cut out her little sentiment "buttons" with the coordinating die.
Now she got to the "fun part" – assembling her pretty handmade tags. She started by popping up one of her little sentiment circles with some foam tape in the upper right corner. Then she added her trees by adhering the first, tallest one flat on the left and added her row using varying thicknesses of dimensional adhesive across the bottom.
So easy!!
For her last touches, she added a few enamel dots to any of the trees that looked "naked", punched holes in the tops and added her lengths of trim.
You can see how easy these are to make, how absolutely GORGEOUS they are and how just one of these on a package make it instantly festive. Here are the items Jamie used for you to get out on your table or pop into your shopping cart: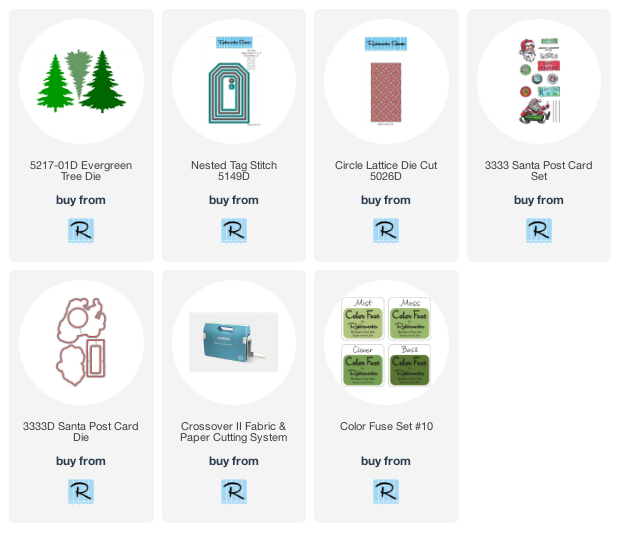 Handmade gift tags are often an overlooked opportunity to show off your creativity, let you use up your scraps, let your packages stand out, save you money and are just plain cute
like these
or luxurious like today's from Jamie. However you make them, DIY Christmas gift tags can be solutions in so many ways!