Cute Idea for Easter Chick Cards to Make This Year!
We are just loving this adorable idea for Easter chick cards to make for your family and friends this year. That little chick with his egg hat just cracks us up – pun not intended. We are really loving the soft coloring Annie has done with her Copics and her addition of that inked background panel pulls it all together. Wanna see how to make these?
First stamp your images from our new Chicks & Eggs Stamp set onto white card stock with our Mocha Color Fuse ink. This pale shade is perfect for today's no line coloring technique; dark enough to give you plenty of guidance but light enough to fade into the coloring you do! Color in all your cute little chicks and all their accessories with your Copics and then cut them out with our coordinating dies.
Now make that pretty background panel. Trim your card stock – here Annie chose a light aqua shade – to 4 3/4″ X 3 1/2″ inches. Using your favorite blending tool – our designers LOVE these brushes! – blend Whisper and Dreamer Color Fuse up over from the bottom. Start with Dreamer and blend up about 1/3 and then cover the next third or so with Whisper. We just love this soft ombre look! Now stamp the Flowering Vine background stamp with Dreamer and stamp over the whole thing – gorgeous, right?
Before you stamp your greeting, cut your white window frame piece with our Window With Pierce die and while you are at it, cut your purple layers to 3 3/4″ X 5″ for the paler shade and 5 1/2″ X 4″ for the darker.
When your beautiful overstamped ombre panel is completely dry, lay your white frame over it and lightly mark out or eyeball where you greeting will go. Stamp it in Versamark and heat emboss with white powder.
Now assemble all your parts and pieces! Layer your light colored panel over the dark and adhere to your card base and add the ombre panel to the front of that, all using flat tape. Adhere the white frame to the front using foam tape for some shadow and depth. And last, pop your colored elements on with more foam tape and then stand back and admire your work!
SO cute, right? Here are the items Annie used and be sure to check out or other new Easter sets because we can see this lovely card design being used with all of them!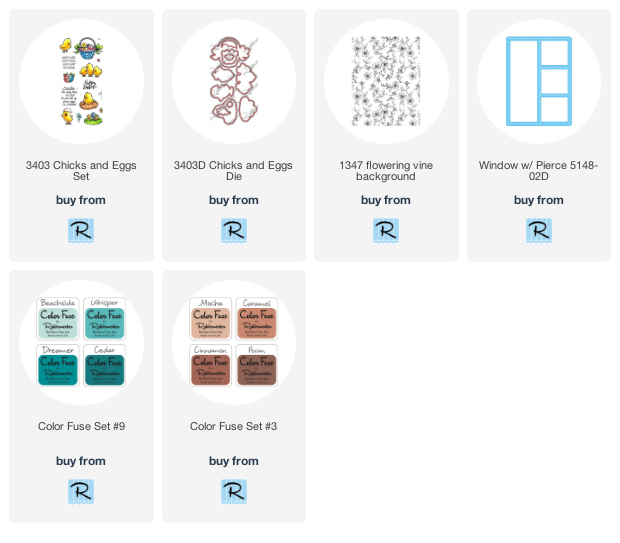 If you've got Easter chick cards to make on your list this year, we hope you try this idea – let us know what you think!