Make some cute Easter Tags for baskets, treats or to put on cards!
We are in LOVE with these adorable Easter tags and Jamie has made them in the perfect size for tying onto baskets, attaching to little treat bags or even adding to a card base for quick and cute Easter cards. Let's check out how she added all the cute little details!
First, she cut three different patterns of decorative paper using the largest of our Nested Tag Stitch dies and used the second largest die to cut three tags from white card stock.
Then she made a little stencil by cutting a card stock scrap with our Tabbed Grass die and inked some grass onto the bottom of the white tags with Grass and Juniper Color Fuse Ink.
Next she stamped her sentiments from our new (and HOT!) Bunnies set on the upper parts of the tags and added them to her patterned paper backs with some adhesive tape.
Once those were complete, she stamped those stinkin' cute bunnies (and thank you for all the compliments – we do love them too!) onto white card stock, colored them with her watercolor markers and a wet brush to move the color around. Once everything was colored in she used our coordinating die set to cut them out and simply added them with foam tape for a little extra dimension.
Of course even bunnies love a little sparkle so Jamie added tiny touches of Stickles around the sentiments and then added little mini clothespins to attach these little darlings to their treats.
Here are the items Jamie used today: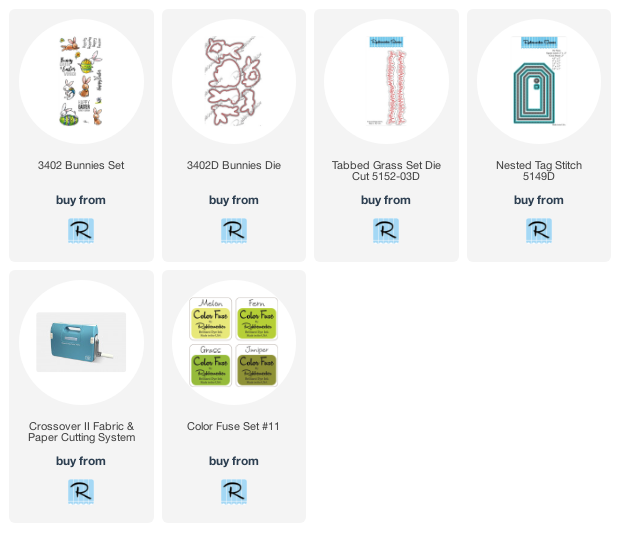 Now we can't stop thinking about all the ways we could use these Easter tags! Ooooh! What about a little banner made up of a whole collection of Easter tags with a different little motif on each one? 'Scuse us – we gotta go STAMP!