Use this basic design idea for easy elegant cards to make anytime you want something quick but special!
This design idea for easy elegant cards to make uses the visual impact of gorgeous color on a focal point set against a white on white layered background. No matter what colors or floral design you choose, this setting of color against textural white is a look that never gets old and can be switched up so many ways for so many variations on the design.
Colleen created this card for us and says part of the reason she chose to make this particular card with our Heavenly Hydrangeas set was to be able to use those beautiful layers created with the coordinating die. Let's take a closer look at how she created this knockout card!
To create all those lovely white on white layers that add so much textural interest and that touch of elegance, Colleen cut white card stock with our Rectangle Combo OPC (One Piece Cut) #3 die and set all the layers aside.
For her beautifully richly colored hydrangeas, Colleen started by creating an ink blended background using Color Fuse Inks from Set #9 for the flowers and Set #11 for her leaves.
By the way – if you've been using your own Color Fuse inks like mad, you will want to check back with us on Thursday for an announcement that will make you SO happy! Let's just say our show-goers went absolutely BANANAS and cleaned us out so you will want to stay in the loop!
Over this custom color paper Colleen just created, she stamped the flower elements and the leaves (omitting the stems) with Versamark and then heat embossed everything with gold powder. This subtle metallic sheen adds a lot to the elegant vibe of this card without overtaking the other elements that make it all so special in combination.
Colleen then cut all the pieces out with our coordinating die.
For her beautifully layered white on white background, Colleen adhered every other layer of her collection of die cut frames to her white card front. Colleen says "Save the remaining layers for another card!" Colleen suggests using liquid glue for this step to allow you time to adjust each layer to be perfectly square with the others.
For her sentiment, Colleen stamped her choice of words form our Shadow Words set with black ink and fuss cut them closely, leaving just a whisker of a white border around the images.
To get her placement of all her cut out elements just so, Colleen first staged them over the card until she had everything just so. She then started adhering them with varying thicknesses of dimensional adhesive, leaving one flower layer to be popped up higher with foam tape. She "sprinkled" her words down the side of her arrangement slightly overlapping the frames for more visual interest.
You can see how all the elements come together on this easy elegant card. The white on white frames add subtle texture and shadows, the metallic gold of the embossed flowers and leaves create enough sheen to feel slightly luxurious and the layering of the flower pieces adds depth and dimension so the whole card rises up to meet the eye.
Here are the rest of the items from our store that Colleen used today: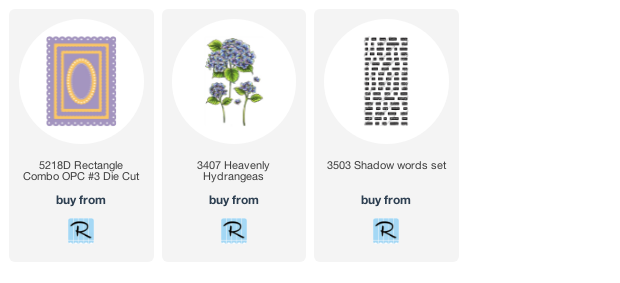 This idea for quick and easy elegant cards to make can be changed up in so many ways, making for endless ideas. Try it out with your favorite floral stamp from our huge collection and see what easy elegant magic YOU create!