Could this handmade spring card idea get any cuter?
Spring IS coming and this handmade spring card idea makes us feel ready! Is it just us or has this winter felt SO long? Now that the days are feeling longer thanks to the time change, we feel like we've gained a little crafting time. What better way to use it than by making cards that give us all the spring feels?
This adorable idea is from Jean and we are loving all her sweet little touches. Let's get all the steps so we can make one too!
Jean started with her sentiment which is a smart idea – there's nothing worse than being almost done with a card and messing up that stamping! She stamped a phrase from our Kittie Says Spring Time set with VersaFine Onyx black ink onto her white card stock card panel.
Then, using a strip of vellum as her edge, Jean positioned it about 2 ¼" below her sentiment and applied some blue ink upwards for her sky, concentrating the color near the horizon and allowing it to fade out to white at the edges. This gives lots of dimension!
Then she reversed the strip and applied brown ink the same way. She then popped that onto her card base with her tape runner.
Because Jean wanted specific shade of color to create her cute spring scene, she custom colored white card stock by applying her inks with her favorite blending tools. You can, of course, use scraps of colors you already have if you like.Color white cardstock with a variety of inks from which to cut the pots, watering can, flowers, and gnomes.
Jean die cut and assembled her elements, using more and complementary inks to add shading where needed.

Jean also mixed and matched some elements to create cute details, as on this blue watering can………..
……..and to clothe her gnomes! She created sleeves by cutting the shapes for the gnomes' arms from both the color of their little tops and flesh color, snipping the ends and adding the sleeves to their little arms. SO cute!
Jean even applied this detailing to the little trowel, cutting it in both silver and brown and trimming them to make a realistic looking little gardening tool.
Jean added all her darling little die cut elements to her card, building depth into the scene but using varying thicknesses of dimensional adhesive to bring elements in the foreground forward.

It's just SO sweet and SO cute! Here's what Jean used today if you want to make this same adorable card: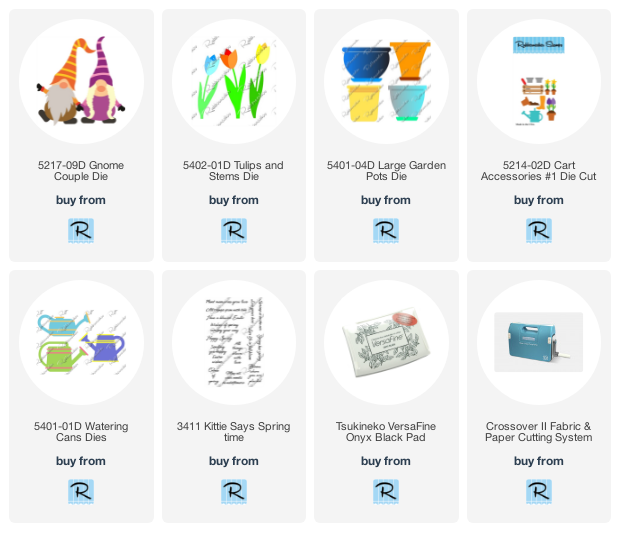 We are tickled with this handmade spring card idea that is sure to bring a smile to your recipient's face! The fresh colors, the scale of the adorable garden gnomes with the other elements and the simple design make it all so fresh and sweet!