Two techniques combine to make an ombre emboss resist look you won't be able to stop using!
You may have seen versions of this ombre emboss resist technique before. You simply heat emboss a background stamp with clear (or white on white card stock) powder and then apply your inks from lightest to darkest to create an ombre look.
Today Carol has take this gorgeous application and totally upped the ante with a DOUBLE ombre look! You can see how she's juxtaposed the shades against each other for so much dramatic impact and such glorious shading and she's made it all super easy for us to try.
Let's get all her tips and tricks to learn how to do this fabulous card making technique at home.
Carol started with the ombre stamped element to her stunning background. NOTE: You will need to use a stamp positioner for this step to be able to reink if necessary AND to overstamp with the Versamark for heat embossing.
Using the inks from Color Fuse Set #5, she inked up the roses from our new Bird/Rose Background stamp, starting with the darkest shade at one end, gradually working to the lightest shade at the other.
PRO TIP: Use a finger dauber to blend where two colors meet. She left the panel and the stamp in her positioner for the next step.
After pouncing her anti-static bag over the whole panel, Carol inked up the stamp with Versamark and stamped again over her flowers. She then heat embossed this with some white pearly embossing powder (clear powder will work just as well).
Now to add that extra punch to this already-stunning ombre emboss resist piece, Carol trimmed it down, leaving about ⅛" around the edges of the flowers. She taped this down to some scrap paper with removable tape. PRO TIP: Use some of that "ugly" washi tape you got in a sampler!
Using the same four colors of Color Fuse Ink in REVERSE order, Carol blended her ink over this panel. Blending the lightest ink over the darkest flowers, the darkest ink over the lightest flowers and the two shades in between makes the flowers pop. It reminds us of luxurious flocked velvet!
Carol carefully removed the tape and, no doubt, took a moment to swoon over what she'd created!
Carol now cut a piece of white card stock to 2 ½" X 5 ¾" and inked up the edges with Fuchsia Color Fuse for a perfectly coordinating border. She adhered the embossed image to that layer and then adhered the whole assembly to a mini slimline card front with dimensional adhesive.
For all her lovely details, Carol got out her die cutting machine and using our Hello Script With Shadow die, cut the script portion three times from scraps of white card stock and the shadow once from a scrap of black card stock. She also used our Large Garden Pots die to cut one of the designs from another scrap of white and cut more white scraps with our Canterbury Bells and Stems die. And last, she cut white card stock with our Flower #6 die.
For the "Hello", Carol adhered the three white layers together with liquid glue and then adhered the stack to the black shadow.
To add details to her flower pot, Carol added shading to the edges with Copic markers in colors C3, C1, and C00. She also added colored details to the flower stems and Flower #6 shape with Copics in colors YG17 and YG25, adding a little YG67 to the Flower #6 for added depth.
To build her little flowers, Carol used a flower shaping tool to gently shape the flowers into slight cup shapes and adhered them to the stems with liquid glue. She also cut the Flower #6 die into three stems of foliage.
For the final assembly, Carol adhered her dainty flowers to the back of the flower pot using dabs of liquid glue and added the pieces from Flower #6 at the back for added depth. She then adhered the flower pot to her gorgeous ombre emboss resist background with dimensional adhesive for shadows and to give her flowers a bit of movement. Last, Carol layered her "Hello" over the pot at the bottom of the card with more dimensional adhesive.
This card is SO loaded with gorgeous details, depth and texture and we CANNOT wait to try this out with so many of our background stamps! Here are the items Carol used to make this specific card: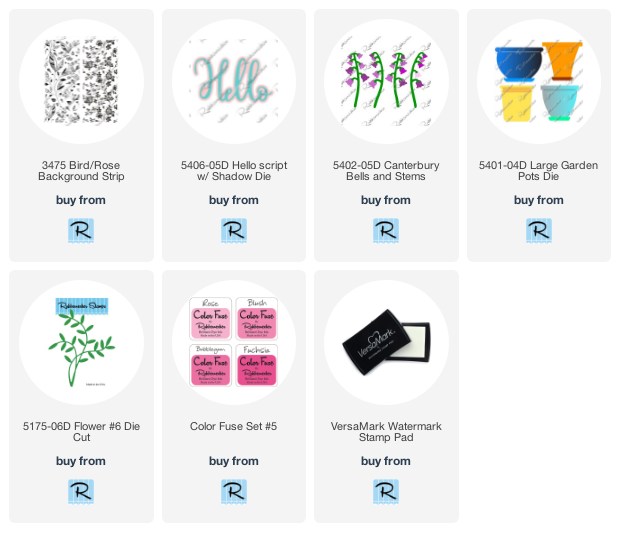 We are just loving this rich twist on ombre emboss resist stamping! Picture ocean cards, bold graphic elements, soft delicate details….the creative possibilities are endless!