Add tons of detail to your backgrounds with this easy tip on how to layer die cuts in card making!
We recently released some new cover dies to give you tremendous bang for your creative bucks when making your beautiful handmade cards. Today we are sharing a super easy tip on how to layer die cuts in card making to add beautiful shadows and details and our Organic #1 Cover Die is the perfect shape to show this off.
This card is brought to us by Natasha and she said she was inspired by our gorgeous floral blooms and the designs in our amazing cover dies. Let's dive into the making!
Natasha started out with her pretty flowers by stamping the images from our Heavenly Hydrangeas set with Versafine ink onto watercolor card stock and heat embossed them with clear powder. Embossing images you plan to watercolor helps keep the color within each portion of the stamp, preventing any bleeding or muddying of your beautiful colors.
She then taped her paper to a board to prevent any warping when using a wet medium. Natasha chose to color in her images with Karin markers, working in layers and letting each layer dry before adding more color. This helps retain the vibrancy and details created using the different shades.
When she'd colored everything in and added her gorgeous details – can you peep that gold on the leaves? – she cut out all her flower images with our coordinating dies and fussy cut her leaves.
Now Natasha moved on to that fabulous die cut background made with the cover die. She cut white card stock twice and teal card stock once using the die and then adhered the two white layers together with liquid glue to give them more visual weight and a teeny bit of dimension.
Then, for the magical touch that adds so much visual impact, Natasha layered the white die cuts over the teal, offsetting the layering by just a whisker, adhering with more liquid glue to give her some time to make any adjustments to get the alignment just right. You can see how this tip for layering die cuts made with these larger dies makes the whole foreground of this card appear to float. It's adds so much with such a simple step! Natasha added this beautiful layered element to a white card base to allow even more contrast to show.
Natasha stamped her sentiment from Kittie Says Spring Time with Versarmark and heat embossed it with gold powder, trimming the words closely with her paper snips. She then arranged her elements over the card front, choosing placement and angles. When she had everything to her liking, she adhered everything using a variety of adhesives, flat and dimensional, to build up that lovely depth.
Before attaching her sentiment, Natasha echoed the gold in her flowers with a couple of loops of gold thread behind it, sticking the ends to the foam tape before popping it onto the card.
We are loving the vibrant purples with the jewel toned teal and using that crisp white lets everything really pop! Here are the goodies Natasha used today if you want to reproduce this card for yourself: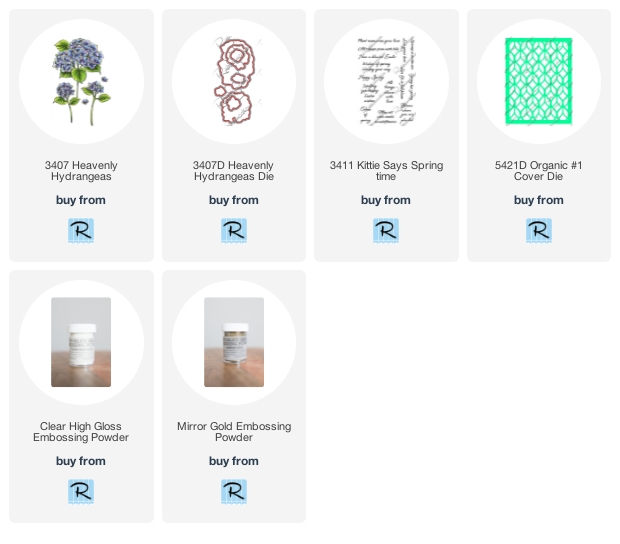 This easy method of how to layer die cuts in card making for really gorgeous backgrounds is so incredibly simple and can be used with really ANY die cut. Try adding very dark shades behind even smaller die cut elements for shadow, contrast and pop or even reverse that and use lighter shades against dark fields. The opportunities to use die cuts layered together are endless and you never know what gorgeous effect you will create.