Learn an easy ombre technique using just one ink color!
Ombre is still hot in the paper crafting world and we love the look, especially when it is created with a ridiculously easy ombre technique using just one color of our Color Fuse ink!
This post is part of our Rubbernecker Christmas in July 2021 celebration. Every day during the month of July we are sharing projects that are designed to inspire you to start thinking about all the fun ways to celebrate Christmas with paper crafts. Check back every day to see new, fun projects all about the winter holidays!
Back to today's card from Allison! Allison saw little snowy hills in our Slimline OPC Wavy die and decided to really run with it. She started by cutting a piece of white card stock with that die, setting the frame aside to use later. She then took the "negative" pieces – the cut outs from the frame – and added her fun, one-color ombre look to them using Sierra Color Fuse Ink. We specifically formulated this ink to blend beautifully and this easy ombre technique really shows it off!
Allison simply used a blending brush to apply the ink from the bottom of her mini background piece, making sure to use a lighter pressure as she moved in to the piece. This gives a beautiful depth of color and gives that tonal ombre look that can be really hard to achieve with other inks (we know, we tried a zillion formulas!). When she had her snowy hills all ombred to the beautiful dimension, she stamped snowflakes (from our Snowman with Presents set) in Sonata randomly on these little panels. You can see that the Sonata ink – from the same Color Fuse set – coordinates perfectly with both the dark and late shading of the Sierra ink.
Allie chose which panel she wanted to show off her sentiment and stamped in black ink. She then attached these panels to her card base with tape runner, using the frame as the guide to line them up perfectly. She then adhered the frame over it all with liquid glue.
Now Allie stamped her little characters from our Snowman with Presents and Christmas Inchies sets, colored them in and cut them all out with the coordinating dies.
She arranged them on her card front, trimming where necessary to add things into and over the scene and adhered them with dimensional adhesive. She popped on a few little peppermint candy embellishments and this "cool" card was ready to go!
As much as this is clearly a winter card, we know some people who are really HOT right now with this crazy weather and this could be a fun card to send to cool them off! Here are the things you will want to grab to make this stinkin' cute card: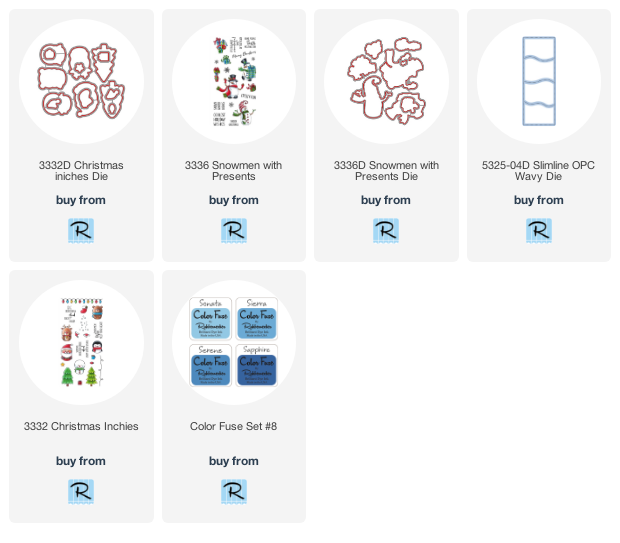 And while this easy ombre technique is perfect for these snowy hills, we KNOW you will find lots of other ways to use it. This one color ombre look is perfect for any time you want to add some dimension and we can't wait to see how you use it!