Today's easy paper pieced card background can be an awesome go-to design element for any project!
Today we have this oh-so-pretty birthday card that uses such a clever and easy paper pieced card background that we have been asking ourselves where has this been all our lives? Jamie used two coordinating papers from our Modern Floral 6 X 6 Paper Pad and they look gorgeous together! We can also see this easy and fast technique being used with boldly contrasting patterns as well.

Let's dive into the making and get the scoop from Jamie.
For that fabulous easy paper pieced card background just choose two pieces of decorative paper from any of our 6 X 6 Paper Pads and trim them both to the right card panel size for the project you are making. Then using your paper trimmed, cut each corner to corner twice to make four pieces for each sheet. Then just mix two of the long triangles with two of the shorter triangles and adhere them to your card front, leaving little borders between the paper pieces to add some graphic pop. BONUS – because you get the eight pieces, you can make two of these cards at once in almost the same amount of time as one!
As we mentioned, Jamie used our Modern Floral collection for this card and you can see how the patterns look just so spectacular together. While we can't make an iron clad guarantee that you will love every pattern mix, we did specifically design and choose our patterns to work together within every Paper Pad so you can have ultimate mix and match opportunities.

And, if you wanted to make a stack of these cards using this paper piecing technique, you could make at least two dozen cards from each Paper Pad and can add whatever die cut element you want to add in place of Jamie's die cut gift. Personally, we ourselves may or may not be making up a ginormous stack of card bases and stashing them to have on hand for almost-instant cards!
Now let's talk about that cute little custom gift. Jamie created this adorable element with the simplest of steps and her vision is just so point! Believe it or not, that started out with a humble die cut scrap of light blue card stock cut with one of the dies from our Nested Square Stitch Die set.
To turn it from meh to marvelous, just stamp over this with Sky Color Fuse Ink from Set #7 with one of the stamps from our Watercolor Splatter set. Then all you have to do is add some little lengths of ribbon and a bow to get it ready for giving.
To set this off from the background, cut a scrap of white card stock from the next size up die in the set and then adhere your little gift to it with some foam tape to add that dimensional shadow.

For the sentiment, stamp your choice with Versamark onto a coordinating scrap of card stock and heat emboss with a powder that pops – Jamie chose white to echo all the lightness in her card. Add this with more dimensional adhesive and you've got perfect balance!
Here are the items from our store that Jamie used today: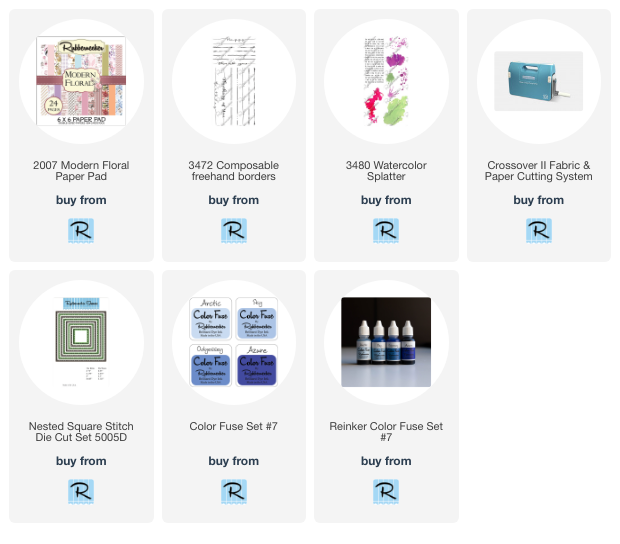 Remember, through tomorrow night we have an amazing Birthday Sale happening and there are some AWESOME deals so be sure to check it out!
What do you think – is this easy paper pieced card background now on your "gotta try" list? Here, we can't stop holding up papers that we like together and since we love them ALL it's getting nutty. Go peep your own stash and see what combos you love and then give this fun and easy technique a spin!