This luscious Fall color combo for cards is unexpected but downright gorgeous!
When Colleen set out to make this card, she used her researching the Pantone 2022 Fall colors as inspiration. Her finding colors in shades of blue, purple and brown led to her creating this spectacular Fall color combo for cards that we are just over the moon for! While this color combination is unconventional for Fall cards, you can't help but feel the season with this project and we are excited to share how Colleen made this so you can make one too!
Colleen started with her beautiful, detail loaded background. On a card sized piece of watercolor paper, she blended Orchid Color Fuse Ink from Set #6 all over, not worrying about a "perfect" application. She then placed a few drops of Orchid Color Fuse Refill ink (or swipe your cube) over a glass mat, gave it a spritz of water and then placed her panel, ink side down, over the wet ink, moving the panel around a bit to get more coverage. She dried this with her heat tool to speed things up. PRO TIP: If you don't have a glass mat, you can use a very large acrylic block.
Next, Colleen laid our Fall Leaf Stencil over the inked up panel and lightly applied some Magenta Color Fuse Ink, also from Set #6 and then lightly applied some Cedar Color Fuse Ink from Set #9. She removed the stencil and then splattered some Magenta Color Fuse Ink over the whole surface.
She then die cut this piece with the largest die in our Nested Deckle Rectangle dies and then ran it through her die cutting machine again using our Diamonds Tattered die. While she had her machine out, she cut a piece of matte gold metallic card stock with the same Deckle edged die. She adhered her inked panel over her gold panel and then adhered that assembly to a white card base.
Now she moved on to her beautiful blue daisies. She stamped the flowers and leaves from our Daisy Day Dream set with alcohol friendly black ink. She colored her flowers in those captivating shades of blue and added her pops of the trending oranges and browns on the leaves. She splattered white ink over everything and, when dry, cut everything out with our coordinating die.
Colleen then arranged her flowers and leaves on her card front, being careful not to cover up all the gold diamond peek through spots. When she had everything just so, she adhered them with varying thicknesses of dimensional adhesive.
For her sentiment, Colleen stamped her choice from our Spattered Leaves set in black on white cards stock, trimmed it up to a neat square and layered it over a piece of the same gold as the background layer.
You can see all that beautiful dimension from the stenciled and die cut background bringing the eye back and then the layered flowers and leaves bringing the eye forward. You really have to intentionally STOP looking at this gorgeous card!
Here are the items from our store you will want to have on hand or add to your shopping list to make this card at home: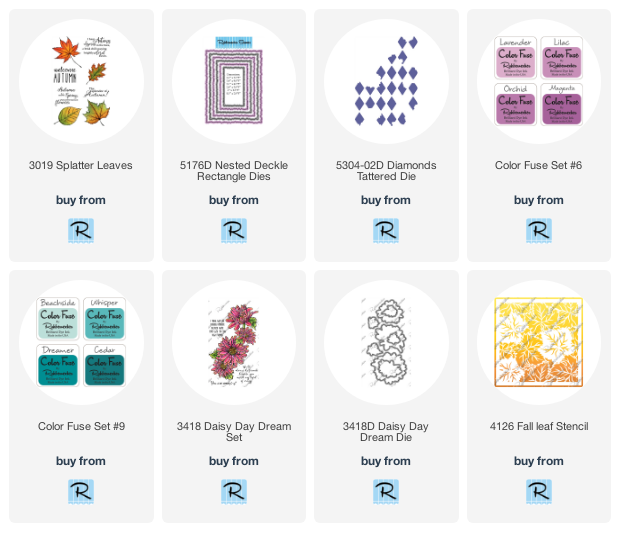 We never would have put this fabulous fall color combo for cards together ourselves and we are totally in love with these shades on a card celebrating Autumn. What about you – are you looking at your colors differently right now?