Check out how embossing with a stencil can give you a very cool look, especially with the same stencil inked on another element!
Did you know that embossing with a stencil is so easy and that using your stencils this way instantly doubles the value of all those pretty designs you have? And then when you combine a stencil embossed element with an ink stenciled element, you get an amazing, rich, perfectly coordinated look.
Today Annie is showing this off with a pretty Autumn card in a soft color scheme with beautiful, cheery blossoms. Shall we look at the making?
Start by stamping the flowers from our Field of Daisies set onto white card stock using Mango, Citrus, Apricot and Pecan Color Fuse Inks from Sets #2 and #3 (for the Pecan). When you've got your beautiful, warm toned flowers stamped, cut them out with our coordinating die and set them aside for the moment.
Cut a scrap of light aqua card stock with our Large Garden Pots die set and lightly blend some Whisper Color Fuse Ink from Set #9 around the edges to add some dimension. Add this to your flower pile.
Using the largest die from our Nested Loops set, cut a piece of white card stock. Mask off the loops with some low-tack tape or some of that ugly washi tape you will never use. Lay our Sand Stencil over this piece and apply some Mocha Color Fuse Ink from Set #3 lightly through the stencil.
Remove the stencil and the masks and stamp your choice of sentiment – Annie chose one from our Splattered Leaves stamp set – in dark brown ink in the upper right hand corner of the panel.
For that gorgeous texture you get from embossing with a stencil, consult the directions for your die cutting machine and choose the correct sandwich you need to dry emboss your design. The sandwich may say "dry embossing with brass stencils"; you may need to add a shim of card stock to these directions to make up the thickness of the brass or metal stencil plates.
Typically, the sandwich for embossing with a stencil in a BIG SHOT is something like this but you will want to double check your own machine for specifics:
– Multipurpose Platform opened to Tab 1
– Big Shot Plastic Plate
– Plastic stencil
– Paper (front of paper facing down onto stencil)
– Rubber Mat
– Big Shot Plastic Plate
Once you know how to dry emboss in your specific machine with a stencil, cut a piece of teal card stock (to card front size and use our same Sand Stencil to add this gorgeous texture to your panel.
Adhere this to a white card base with your tape runner and then add your ink stenciled layer over that with dimensional adhesive. Take a second to admire how absolutely GORGEOUS that inked design is over the dry embossed design! You can see how you can get so much impact by those two versions of our design echo each other on your card. Now close your eyes and picture all the stencils you have and imagine the possibilities. Need more stencils to do this technique? We've got you covered with all our beautiful stencil designs here.
Now finish your card by adding your flower pot and blossoms to your card with varying thicknesses of adhesive and pop on a few gems for a touch of bling.
Here are the items from the store that Annie used today: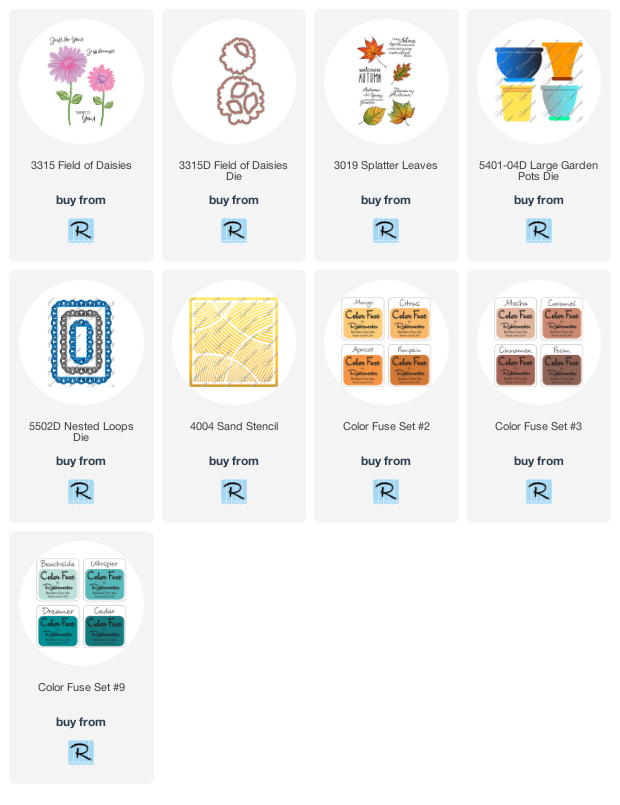 We hope this inspires you to try out both embossing with a stencil and then inking with that same stencil on a card to get all that beautiful texture and details. Think of all the amazing possibilities!