In keeping with our theme of thankfulness, we are excited to share this bright and beautiful flower thank you card that is so perfect for showing your appreciation for that person in your life who is special to you. We just love the cheerful yellow against that crisp combination of black and white. And there's a SUPER fun PRO TIP in here, too, about that gorgeous gingham so read on and get the details……
First, Carol cut out black and white card stock using two of the largest dies from the Nested Rectangle Small Stitched die, layered them together and adhered them to her card base.
Now for the magical PRO TIP: Carol wanted to use a bold pop of black and white gingham but didn't have anything in that motif. So she made some! She took our Horizontal Stripe background stamp and stamped it in black onto white card stock. Then she reinked the stamp and rotated it 90 degrees and stamped again. VOILA – gingham! We know, right? Imagine the possibilities!
She now die cut her newly minted gingham paper with the next to largest Nested Rectangle Stitched die and trimmed it to 1″ wide, keeping the stitching at either short end to blend with the layer die cut.
Now she started on those bright and cheery flowers. Using out Fresh Florals set, she used Color Fuse Set #2 and created her flowers starting with Citrus and then adding in layers in Mango, Apricot and Pumpkin to get all that rich depth.
Here's another PRO TIP from Carol: to be sure to get your layers perfectly positioned, use a piece of acetate to act as a "test layer" when you are lining up your stamps. Just place the acetate layer over your flowers in your stamp positioner and stamp your next layer on it. This way you can see if you are lined up just so. While we do include a custom layering guide for each of our clear layered floral stamp sets, this tip helps with absolutely precise placement for those of you who love that perfectly lined up look. Imperfect is gorgeous, too, so don't feel like this is a deal breaker!
Carol double inked the leaves in Color Fuse Basil and then die cut everyone out with the coordinating Fresh Florals dies. She then arranged her flowers and leaves on the card to determine where she wanted to add her sentiment from our Happy Mother's Day set and stamped it directly onto her panel. She added her flowers using liquid glue and foam tape to make a pretty dimensional focal element.
Here are all the great things you will want to pull out for this pretty project: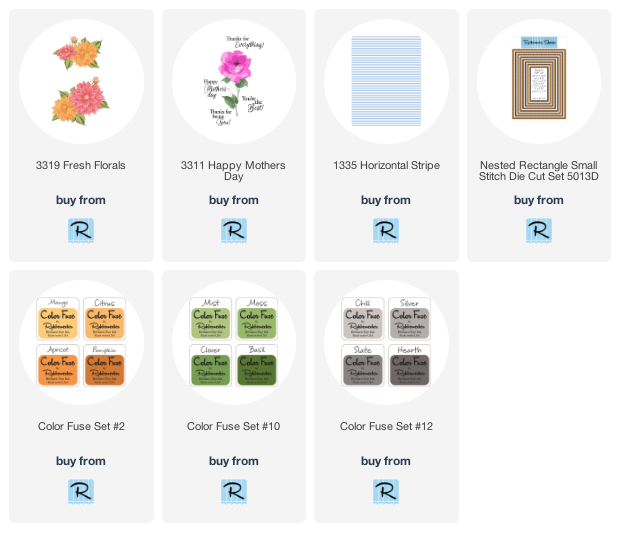 We just love that look of the bold black and white gingham and how those bright yellow flowers add a fun autumn vibe to the card. A flower thank you card is always a great choice and we can see this one in just about any of our fabulous Color Fuse families. Try it out!