Check out all the fun little details that went into this fun Halloween card – the perfect mix of trick and treat!
Today Ricky is sharing his fun Halloween card that he created by imitating the colored background on the packaging of our Framed Crows in Trees stamp and then adding the adorable little characters to really cute it up. AND he's sharing a really great video where he walks us through his whole process. Thank you, Ricky, for your great tutorial and your kind words!
Let's check out the video and then we can get Ricky's steps written out in his own words.
And now for the steps:
Using your your Color Fuse inks blend your panel using the colors Apricot, Custard and Crimson.
Start with Crimson and the top and blend down about 1/3 of the card.
And here's the Apricot applied with the Custard going on.
Voila!
Now, place your panel in a stamp positioner and lay your Framed Crows in Trees stamp set on top. Close the lid to pick up the stamp and then ink it up with your darkest black ink you have. I used Versfine Claire Nocturne.
Set that aside to dry and then stamp our your characters from the Pumpkin Dress Up stamp set.
After letting your ink dry, use your favorite coloring medium to color the pumpkins. I used Copic Markers.
Using the coordinating dies, cut out your characters.
Cut out the Slimline Filmstrip Die from your favorite card stock. I used the White Pearl MirriLAVA from The Paper Cut.
Glue down the film strip at a diagonal on the ink blended card panel and cut off the ends that hang over the edge of the card.
Place foam tape on the back of your characters and position them on the card as you see fit.
Stamp your sentiment with embossing ink onto black card stock and cover with white embossing powder. Heat set it, cut off each side to make a square and back with foam tape. Place onto the card panel.
Glue your card panel to a card base and the card is complete!
Rubbernecker here again – is that not SO adorable? We love that Ricky has added something fun and sweet over a spooky element, making this card the perfect trick AND treat!

If you'd like to make his card, here's what you will want from our store: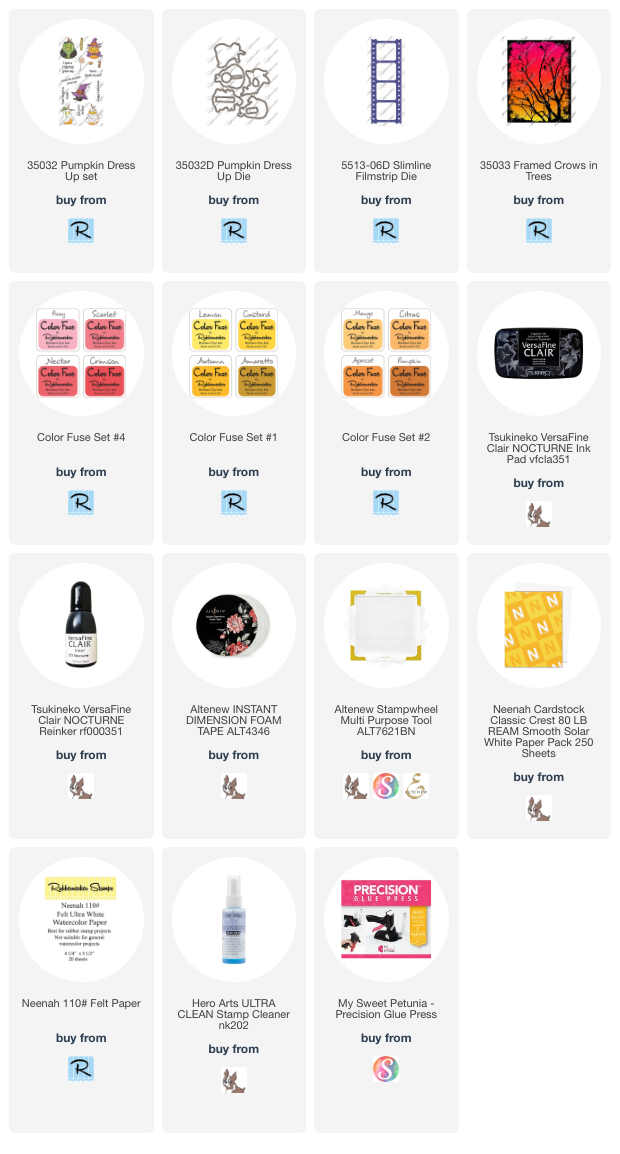 We hope you give this fun Halloween card a try and see what variations you are able to create. It's a great way to share some calorie-free celebration with your friends and making multiples is fast and easy!