Your friends will just CRACK UP when they open these funny homemade Christmas cards you put together for them!
We all love making cards and these funny homemade Christmas cards put such a fun spin on the idea of sending holiday wishes to loved ones. We get such a kick out these cards because it's not just the adorable owls all dressed up but Lisa's fun play on words that has us "h-owling"! Let's see how she made them!
To start, Lisa used our Build and Owl and Owl Christmas Add-On Dies to cut out pieces of her various colors of card stock. As she removed the die cuts, she sorted all the pieces by shape to make her assembling go faster. Note that Lisa used an egg holder from an old fridge – she says some of her favorite organizing pieces in her craft room come from kitchen items! While she had her machine out, Lisa also cut some various pieces of card stock with our Christmas Mini and Santa Mini die sets to use as decorations on the card later.
Lisa, like many of us, discards the packaging from her dies so she pulls up our products on our website on her phone or tablet for reference. She says this helps a lot to know which piece goes where and helps her choose colors. Smart tip!
PRO TIP: cut a couple of extra sets in white so if you need a piece you've already used or want to introduce a pop of a new color, you can color those white pieces in with markers or ink.
Lisa assembled her feathered friends with varying thicknesses of dimensional adhesive and liquid glue to create some lovely dimension.
Lisa cut a panel of plaid paper with the largest of our Stitched Rectangle Die set and used our Deckle Frame die to cut a white frame. She layered her plaid die cut panel over a white card base and then added her deckle frame on top with foam tape. Note: Even though the plaid piece edges don't show, Lisa says she likes to cut her layers with this die because she doesn't have to measure and she knows they will be the perfect size! Lisa is just FULL of good tips today!
Next Lisa cut some branches from white card stock using our Birch Trees die and trimmed them down to tuck under the edge of the frame. And for some "grounding", Lisa also cut some white glitter paper with our Stitched Hills die and tucked that into the frame, too.
Lisa now added the assembled owls to the card with more foam tape and she decorated the scene with the mini die cuts she made earlier, also adding them with varying thicknesses of dimensional adhesive to add more dimension.
Lisa cut the letters for the word "owls" from both white and gold foil paper using our Alphabet Upper Case With Stitch die set, stacking the letters together for some added weight. These were then attached to the card with more liquid glue. Lisa stamped the Deck The Halls sentiment from our Winter Wonderland stamp set onto white with black ink, trimmed them down closely and layered them onto gold paper scraps. She adhered them to the top of the card and added a little sprig of holly to the greeting. Lisa added a few sequins and this card was ready to go!
Here are the goodies you will want to have out on your table or put on your next order to make these cards: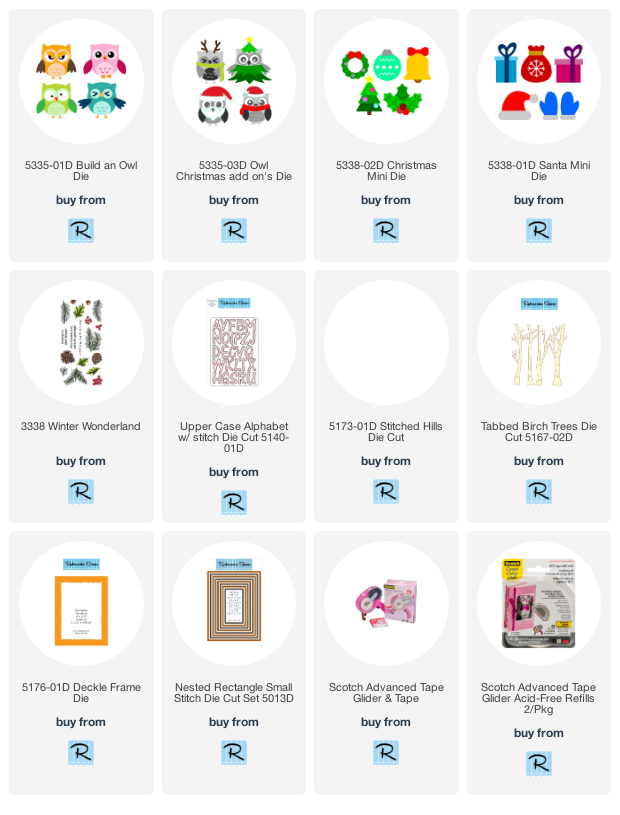 If you've been looking for ideas for really cute, sweet and funny homemade Christmas cards, this one is a keeper!