Extend the use of your background stamps with these gel plate background tips!
Today we are super excited to learn some really useful gel plate background tips from Lisa – we just LOVE getting more out of our crafting sessions and supplies and these tips are going to get you both. Let's dive in and follow along!
First, Lisa made sure that she put her gel plate out over a protected surface – this can get a little messy! She also lined up her orange, yellow, white and a couple of shades of green acrylic paints to be all ready.
To create her first gel plate background she covered the plate with orange and yellow paint spreading it to an even layer. She then used our Distress Hexagon and Distress Reverse Hexagon background stamps to "stamp" into the paint. Two notes: Lisa uses a large gel plate – 8″ X 10″ – so she gets a lot of impressions from a gel plate printing session like this. If you also have a larger plate, Lisa says "although these stamps cover only a small panel, it's easy to stamp them multiple times butted up against one another and turned various ways". PRO TIP: Gel plate printing is not intended to yield perfect images; the layers of color and textures in their imperfect rendering is the point! So don't go nuts trying to get it "perfect"!
Another important PRO TIP: You can use panels the same size as your gel plate, card sized panels and even scraps to pick up the stamped paint areas. Keep loads on hand so you can grab those beautiful, perfectly imperfect areas while they are still juicy. Sometimes it's the very last pieces where you think all you are doing is "cleaning up" the plate that give you stunning backgrounds or pieces you can die cut or layer for tons of texture and dimension!
And another PRO TIP: use the same stamp(s) you used to begin your gel plate background and overstamp some of the panels with different colors to emphasize the texture. You can see where Lisa did this with the darker green over some of the blended paint in the lower right hand corner of the slimline panel she's about to cut in the image below.
Take a look at why Lisa encourages us to use up every but of media on our gel plate – these are all pieces created from this one session!
As if these weren't gorgeous enough, Lisa decided to do some heat embossing over the gel plate stamping. She added some hexagons in gold and even dabbed a little Versamark ink around the edges and embossed those to enhance the distressed look of these beautiful pieces.
To finish off these cards, Lisa cut two sets each of our bee themed dies and colored them with her Copic markers as she assembled them. She layered both of her pieces made using her gel plate background tips that she shared over coordinating colors and adhered them to her card bases.
Then she spent some time playing around with all of her gorgeous pieces and when she had layouts she loved, she adhered them with varying thicknesses of dimensional adhesive.
She added her sentiments and some sequins and these absolutely adorable cards were ready to go. AND, Lisa has a whole bunch of leftover pieces for future projects!
Here are all the things Lisa used today that you will want to get out of your stash or snatch up today so you can reproduce these cards: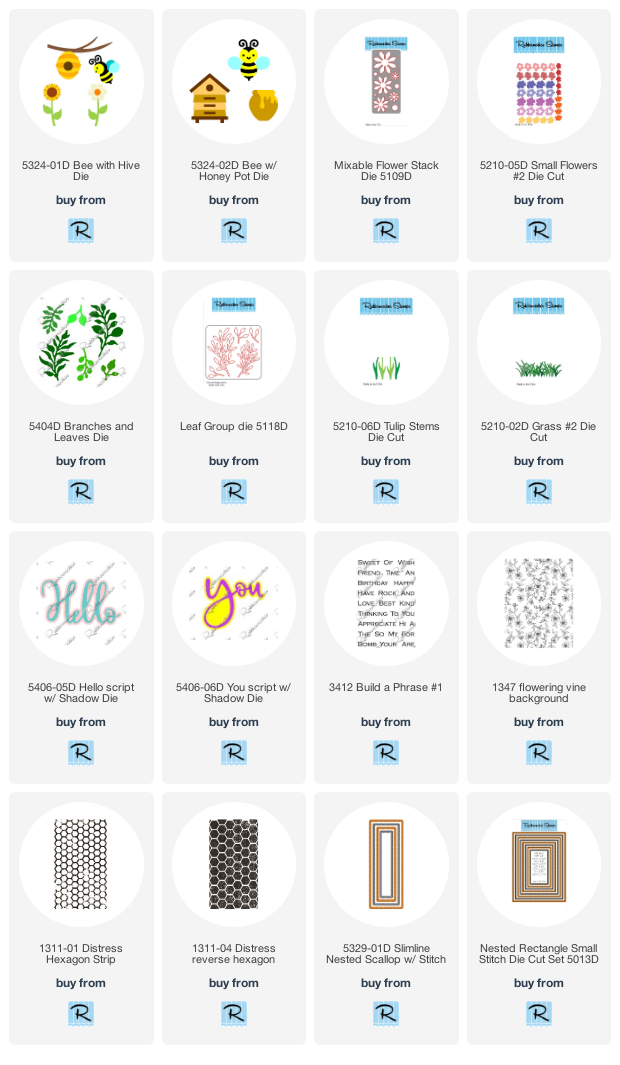 We are so grateful to Lisa for sharing her gel plate background tips and are really excited to learn some new twists on using background stamps AND getting so much more out of our supplies and crafting time!