Who knew gelli plates and stamping would be such a good mix?
If you haven't used gelli plates and stamping together you are in for a fun treat today! Lisa is showing us some fun and easy ways to use acrylic paints, a gel plate and some of our stamps to create some magical looking projects. Let's check it out!
First Lisa shares some GREAT tips for making sure your foray into this fun application of a new technique is successful. She recommends that you cut your panels of card stock to a larger size that you need for your cards. This allows you to be able to choose the best sections of a panel and maybe even have some leftover elements at the edges that you can use as accents on a project. Also, Lisa points out that acrylic paints dry quickly – very quickly! – so having extra panels cut and ready to drop will mean you could get more mileage out of your efforts.
Another tip that is worth is own mention is to make SURE that you use your gel plate on a nice flat surface that you can clean easily because paint CAN and DOES get everywhere and while acrylics do clean up pretty easily who wants to clean when you can craft?
In addition to extra panels, Lisa suggests pulling together in one place all the paint colors you want to use, your brayer, whatever stamps you want to play with and any other items like stencils because you don't want to lose any time digging around. Lisa suggests starting out with a background stamp or a larger stamp to give you maximum impact as you are perfecting your own technique for doing this. (Aren't our designers so helpful?)
Ready to dive in?
Lisa added a few drops of two colors of acrylic paint on her gelli plate and used her brayer to spread this out evenly over the whole surface.
Then she placed our Star Flower background stamp onto the paint covered surface and applied light pressure over the back. PRO TIP: stamps WILL slide on the paint-slicked surface, so you may want to hold down one area with gentle but firm pressure so you can get an even application of paint on the stamp. Now, if it DOES shift, don't give up at that point because sometimes, as we will see with the second project, that can offer a cool effect!
Lisa peeled the stamp off the gel plate, flipped it paint side up and immediately placed one of her waiting panels over the surface and applied firm pressure over the card stock for a full image transfer.
She peeled the panel off and set it aside to dry. Remember, these paints dry fast!
For this card, Lisa cut the completely dried panel with the largest of our Nested Scallop Rectangle dies and cut coordinating panels from white and pink with her trimmer. She adhered the white and pink panels together with a tape runner and then added the scalloped, painted panel over them with foam tape.
For the fun decorations on this card, Lisa cut our Margarita/Daiquiri and Mai Tai dies twice each from card stock and were colored with Copics. Lisa says she loves to color her pieces to get all that extra dimension but you can cut them from colored card stock , too – a great way to use up your scraps! She assembled her beverages with liquid glue and then added them to the card with foam tape. She added her sentiment stamped on white and layered over the same pink and then added a few sequins for some sparkle and this refreshing card was ready to share!
For the second card, Lisa repeated her paint application and used our Jayla stamp to make her image. You can see where the stamp did shift a little, creating some thicker lines near the neck part of the image. But it still looks GREAT! We are so glad Lisa pointed this out so we know that "perfection" is totally unnecessary to make a gorgeous card!
Lisa then stamped our Feathers stamp by rolling some of the darker pink paint right onto the stamp with her brayer and stamping it directly on the dried panel. And when that was completely dry, Lisa heat embossed her sentiment in white over the paint and added sequins for some light reflection to echo that brilliant pop from the greeting. We LOVE it!
Here are the fun things from the store that Lisa used today: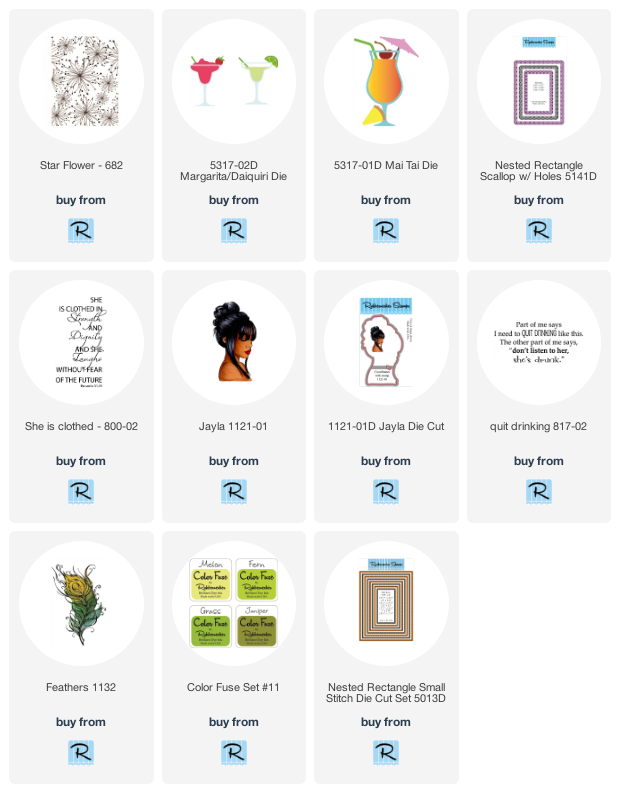 Lisa says that you can use ANYTHING to add texture to your stamps when you are playing with gelli plates and stamping products – try bubble wrap, leaves, flowers – you are limited only by your imagination and creativity!