This cute AND funny handmade cat card will be a huge hit with cat lovers!
Today's adorable and funny handmade cat card will really resonate with cat lovers because what other than a sassy squirrel could get a group of cats to line up so neatly? Annie put this card together to offer some sweet encouragement and it's so cute that we can see this being used for plenty of other occasions just with a change of the greeting.
Let's make one of these cards along with Annie!
First, stamp the back of our Cats Front and Back set along with the squirrel, acorns and bees from Woodland Animals #3 and also the tree limb and leaves from Woodland Animals #2 onto white card stock. Color in with your favorite medium – here, Annie used her Copics – and cut them out with the coordinating dies, fussy cut with scissors and/or use your e-cutter.
Annie cut her trellis and picket fence from white wood grain card stock but if you don't have any of this pre-textured material, you can cut your shapes and then stamp them with our Wood Grain Fence Background stamp with Chill Color
Fuse Ink and get the same look. Great tip, Annie – Thanks!
You will also want to cut some light and dark green and light and dark pink card stock to make some grass, some foliage and some little flowers. Shape the petals of the little flowers using a flower shaping tool for some added dimension.
Next, cut a piece of light blue card stock to card size and use a blending brush to add some Sonata Color Fuse Ink around the edges to create some depth. Adhere this to your card base with adhesive tape.
Now stamp your choice of sentiment onto white card stock and cut it out using the smallest of our Nested Deckle Rectangle dies. PRO TIP: make a "custom" size by placing the die over the stamped words in the upper left area and cut. Then, place the die over the stamped image a second time, lining it up to in the lower right area to create your custom size and run it through again. Blend some Caramel Color Fuse Ink around the edges of this piece to give it the look of a wooden sign.
Let's start building the card! Adhere the trellis and the tree branch with dimensional adhesive and add the fence over the trellis with a double thickness of that same adhesive to add lots of depth. Add the grass and flowers over the fence with liquid glue and then add the row of cats with more foam tape for a deliciously dimensional look.
Make a little length of "rope" out of some natural baker's twine and adhere to the back of the little sign. "Hang" the sign on the trellis with some foam tape. Add the little vines and flowers with liquid glue.
Now it's time for that troublemaker of a squirrel to be added to his tree with foam tape and to scatter the little buggy friends and acorns – was he throwing those at the cats? – with more little snippets of foam tape or liquid glue.
We just love this card perfect for cat lovers! Here's what you will want to have out to create this project: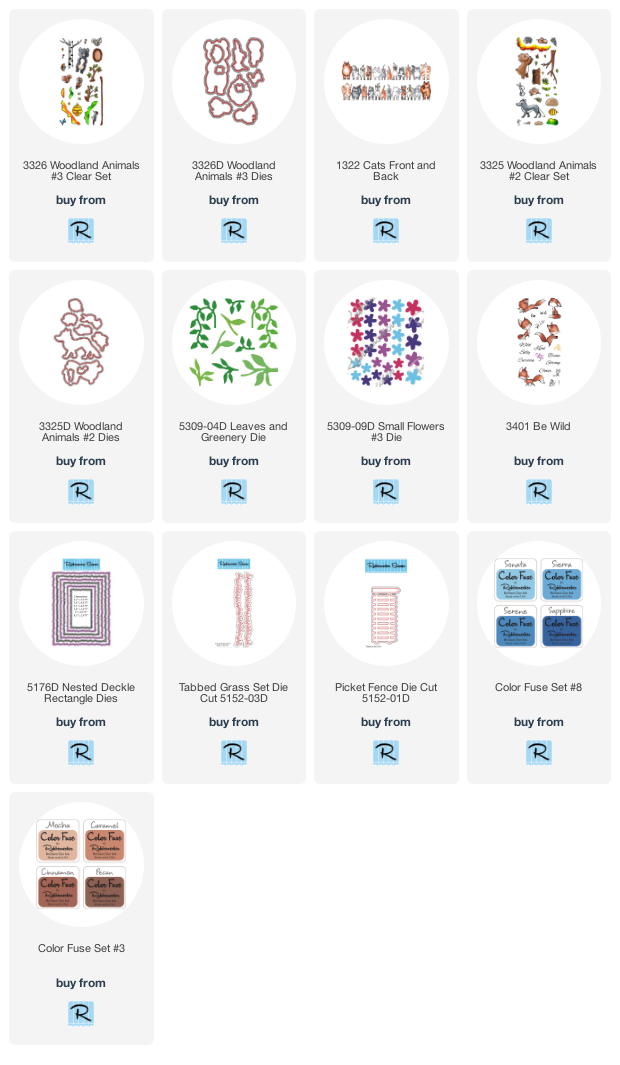 We hope you give this twist on a funny handmade cat card a try. And if you REALLY love cats be sure to check out our collection of cat stamps and dies available in the store!