Using angled layers on cards adds visual impact and a sense of fun!
We have talked about using angled layers on cards before in this post and this colorful card with its hysterical greeting is the perfect use of this fun and easy technique. Let's check out how Jamie put this together so you can try it out for yourself!
First, Jamie stamped out Chicken Wire Background on a softly patterned paper with Versmark and heat embossed with silver powder. Does that not look almost exactly like chicken wire?
Then she used our Rectangle Combo #2 OPC (One Piece Cut) die with some purple card stock and that bold paper in black with white dots. First she added the largest of the purple frames to the chicken wire panel. She used our Grass #2 die, cut some different shades of green card stock scraps and adhered them to the inside of the black and white frame with liquid glue.
Jame dropped that black and white piece into the purple frame over the wire and adhered them together.
Next she stamped our Bird #2 with Versafine Onyx and heat embossed him/her with clear embossing powder and then colored in with Zig Clean Color Real Brush Pens. She cut this out with our coordinating dies and added the little feathered friend to the card front with foam tape. That whole assembly was then layered over black card stock.
Next, Jamie used our Horizontal Stripe Stamp with Lilac Color Fuse ink on white card stock and die cut that with our Nested Deckle Rectangle die. She added this a piece of black card stock cut to card size at an angle with the corners almost touching the edges of the black. She then added the whole thing to her card base.
Jamie added more foam tape to the first assembly with the chicken wire layer and added that to the card at an opposite angle from the striped layer. This creates a TON of visual movement and adds a very playful vibe to a project.
To continue that movement and graphic punch, Jamie stamped our own super funny Motives Questioned stamp in black on white, trimmed it down and added it at an angle mostly parallel to the striped layer.
A few enamel dots to echo the patterned paper and this card was ready to crack someone up!
Here's what you will want to grab to make this card: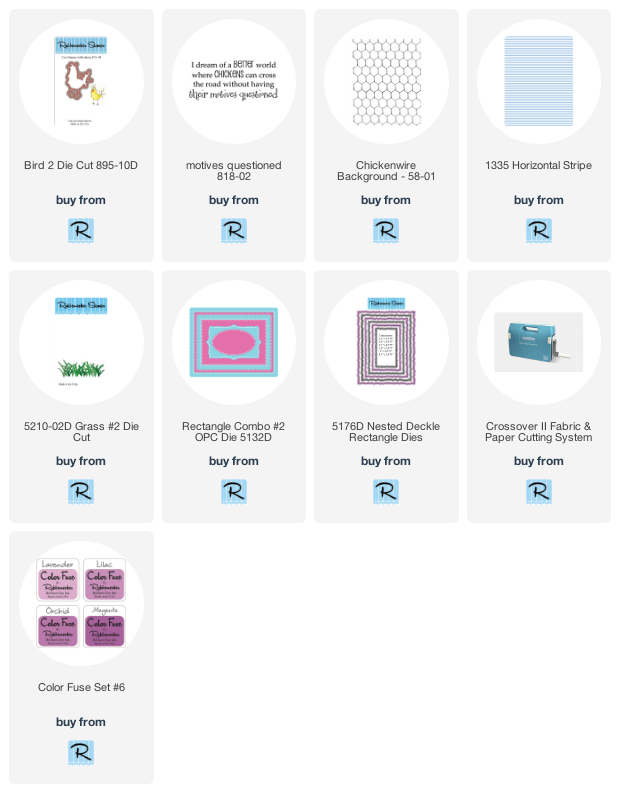 Now you can see how easy it is to add angled layers on cards that will give your projects so much visual impact. Try it out sometime and see if you don't get a fun vibe!