Use your glitter and stencils together to make EYE POPPING cards!
There are so many ways to use stencils and we are over the moon that Carol is sharing this card where she shows how glitter and stencils together can create an effect that is truly eye popping. The ONLY thing we wish is that the photos showed how absolutely gorgeous the background is with TWO COLORS of glitter adding all the details. Honestly, it's like nothing we've seen and Carol is sharing her own genius technique for achieving this look.
Carol started by layering a card sized piece of a double sided adhesive sheet to a card panel of white card stock. To keep the stencil from becoming completely stuck to this adhesive and potentially being ruined at removal, Carol had the brilliant idea to pounce her anti-static pouch heavily over the back of the stencil. (See all the steps together below.)
She then placed her stencil over the adhesive and pressed it down firmly but not hard, paying close attention to the finer detailed areas of the snowflakes.
Carol then applied the first color of glitter through the stencil. Carol says that microfine glitter works best because it will be able to get into all those little nooks and crannies, making your details pop. Carol chose this deep turquoise glitter to mimic the night time sky for Santa's ride. Carol used her fingertip to evenly press the glitter into the adhesive and make sure it reached all the little detailed spots.
Her next step was to brush of ALL the glitter. Carol started with a thick soft brush to sweep most of it away. Carol says "I keep cut up pieces of Swiffer Dusting cloths handy. These cloths grab all the stray glitter and helps with the clean up a lot!" Be sure to get every speck!
Now it was time to remove the stencil. Carol used her craft pick tool to hold down the card panel while she carefully peeled off the stencil. You can see where her anti-static powder trick comes in handy here!
Once the stencil was removed, Carol sprinkled white microfine glitter over the card, pressing down the white glitter and tapping off the excess. We would imagine at this point Carol must have sat there for a few minutes positively reveling in her design! We cannot put into words how stunning this background is!
Now she moved on to her focal element by simply stamping Santa and her sentiment from our Santa Postcard set with Versamark onto white card stock and heat embossed him with black powder. She trimmed the sentiment into a close rectangle and cut Santa out with the coordinating die.
Carol trimmed her snowflake panel and added it to a card base, leaving a narrow margin to set off the sparkle and popped Santa and her sentiment on with foam tape.
Again, we sure do wish you could see the full sparkle of this card! Here's what Carol used today in case you too want to truly dazzle someone with this card: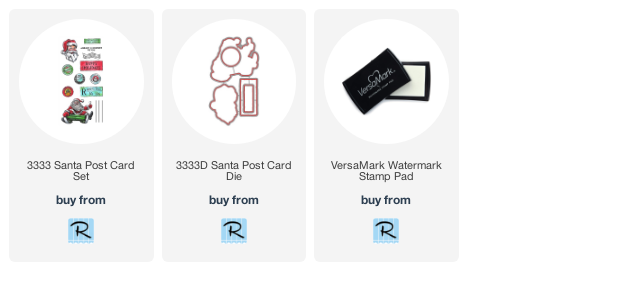 We hope you dig out some of your own glitter and stencils and try this out because we can see this really smart technique being used in ENDLESS ways. Just imagine all the combinations you can create with our stencils and the loads of colors of microfine glitter out there!