Come see how to make a truly stunning glitter embossed background!
Holy WOW – this glitter embossed background has us excitedly looking at our other background stamps and glitter embossing powder to see how many more of these gorgeous elements we can make! There is so much movement and detail and sparkle and it's SO easy to do with any of our background stamps. Let's check out how Jamie made this incredibly gorgeous card.
First, and you pretty much always want to do this when you are heat embossing, Jamie brushed her piece of white card stock with an anti-static tool like an Embossing Buddy. This helps prevent stray pieces of embossing powder from ending up where you don't want it and it's truly an essential step for a clean image.
Once her card stock was prepared, Jamie stamped our Abstract Koi Pond Background stamp with VersaMark Ink. She then used five colors of glittery embossing powder. applied and heat embossed one at a time, over the VersaMark.
Then she cut that panel using one of our Nested Rectangle Small Stitch Die set and layered it over a piece of blue card stock she'd cut with the largest of our Nested Scallop With Half Hole Die. She popped both of those onto a white panel and then all of that onto a blue card base, all with tape runner. We LOVE those layers!
Now to make that awesome frame, Jamie cut white card stock with our Rectangle Stitch OPC (One Piece Cut) die and popped up one of the frames with some dimensional adhesive. Save those extra frames!
Then she used our relatively new and oh-so-hot Friend Script With Shadow die and cut the script from white and the shadow from blue and adhered them together with liquid glue. She could have easily stopped there but customized this card to be a get well card by adding a sentiment from the Kittie Says Phrases #1 set on a white card stock scrap in VersMark and embossed with the extra powders. PRO TIP: When you use several shades of embossing powder, tip a little of the extra of each onto a piece of scrap paper and create your own custom blend! Jamie trimmed the scrap and added it to the card front, just tucked under the frame.
Voila – FABulous card!

Here are the items you will want to have out if you want to reproduce this pretty project: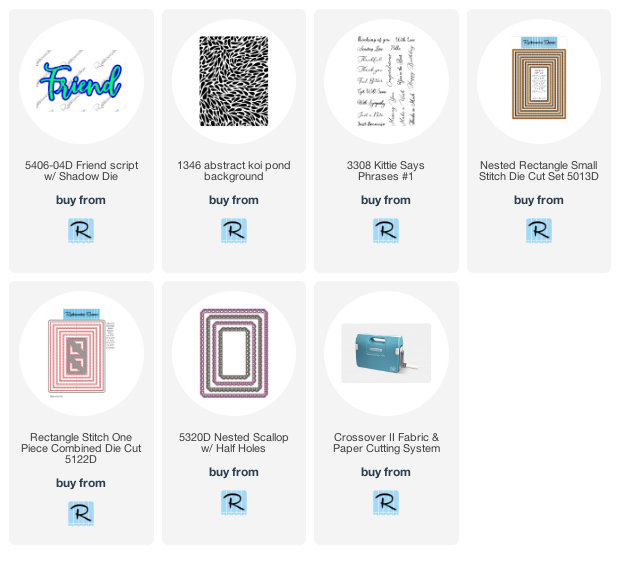 We just love the way Jamie brought such a fun vibe to this stamp by using it to create this glitter embossed background. Take a look at your background stamps or choose some new favorites in our store and try this out for yourself!