Come see what happens when you combine glow in the dark embossing paste and one of the Halloween themed Rubbernecker stencils!
We are SO excited to share this project from Ricky where he's used some glow in the dark embossing paste and our Jack O'Lantern stencil from our latest release. When you see this magical effect you are going to probably run out of the house in your fuzzy slippers to get your hands on this paste!

Ricky has given us his step by step instructions for the making of this project AND has included a great tutorial video so no matter how you like to learn, you are in for a treat. Let's get started and pick up Ricky's tricks!
Ricky started by taking a piece of patterned paper from his stash and using our Jack O'Lantern stencil, applied glow in the dark embossing paste over it. When he'd applied an even layer, he removed the stencil and immediately washed off the extra paste. Paste and stencils LOVE each other and if you wait, you might not ever get the two apart!
While his paste was drying, Ricky cut white card stock with our Ghosts Die (and we are SO glad you told us you loved it Ricky, so we could get one to you!)
Ricky stamped his sentiment from our Pumpkin Dress Up Set with Versamark onto black card stock and heat embossed it with white powder.
He then used his paper snips to trim the sentiment down into a neat little element.
Because he wanted to make this a square card, Ricky trimmed his stenciled piece to 4″ X 4″. Ricky says to make sure that you take a good look at your stenciled element before cutting to make sure you orient it to show it off the best. Then your black matte will be 4 1/8″ x 4 1/8″ all to sit on a card base of 4 1/4″ X 4 1/4″.
Ricky adhered his layers together and then added his ghosts with foam adhesive to give them some shadows. He popped on his sentiment and the card was ready!
Now are YOU ready? Ready to see this magical effect?

Ok – here's the card in natural light:
And here's the card in near darkness:
And here's the card in pitch darkness!
Isn't that SO FUN??? Now, watch Ricky make it in his tutorial video and then we will come back and squee over this some more!
If you just have to make this card – and we think you are thinking you DO – here's what you will want from the store along with that glow in the dark embossing paste: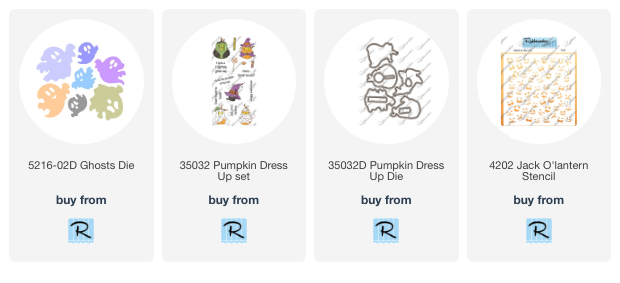 We are so excited that Ricky had the idea to use glow in the dark embossing paste with our new Jack O'Lantern stencil – it's a perfect pairing and this card is so adorable! Are you going to try it? We'd love to know!