Come learn how easy it is to use the ink and spritz technique for the most beautiful watercolor looks!
You've likely seen beautiful cards that look like they were hand water color painted. And while lots of them probably were, we can promise that many of them were made using the very easy ink and spritz technique.

Today our resident watercolor guru, Melinda – check out her watercolor themed Paper Pads in our store! – is sharing her version of a stunning thank you card using this easy technique. Melinda says "I am always looking for a quick idea for batch creating thank you cards. The thing I loved most about this idea is that you can create a bunch for all the seasons. A little stamping and some spritzing and you've got a bunch of thank you cards. I always love using this set because of the realistic watercolor look."
We are excited to learn from an expert, so let's get started!
Start with a piece of inexpensive watercolor paper cut to 4 1/4″ x 5 1/2″. Melinda says "Note you do not need a stamping tool for this; you can use an acrylic block with no problems."
Choose a light shade of blue Color Fuse Ink and swipe the cube or put a few drops onto your craft mat or acrylic block. PRO TIP: You may want to spray the ink with a little water to get it to flow easily. Now, fill your brush and swish it across the top of the watercolor panel.
Let this dry completely before inking up the tree trunk with a brown shade of Color Fuse ink. with a fine mister, spritz the inked stamp with water and stamp over your sky. PRO TIP: The finer the mist, the softer the effect. Large droplets will create bigger splatters; a finer mist creates a softer finish.
Melinda suggests stamping your tree in one of the lower corners so you can add a little landscape with plenty of space to stamp your sentiment. Be sure to let each element dry thoroughly to prevent any unwanted bleeding.
Ink up the tree base with brown and green Color Fuse Ink and lightly mist it. Here you can see how the water is "moving" the ink a little on the stamp.
Stamp this at the base of the tree. PRO TIP: Melinda stamped this "upside down"; instead of the foliage popping up under the tree, it now creates a little shadow below the tree.
Now ink up the leaf part of the stamp with your picks of yellow, red, green and orange Color Fuse Inks. Give this a couple of spritzes to help the colors melt together a bit.
When you stamp this you will REALLY see that beautiful ink and spritz technique show off that beautiful watercolor effect. Let this dry COMPLETELY and then repeat the inking, spritzing and stamping. Melinda says "Don't worry if your don't stamp exactly in the same spot this adds to the real watercolor look."
Now swipe your choice of green Color Fuse Ink or add a few drops of reinker to your craft mat or acrylic block. With a wet brush, pick up the ink and swipe it across your card at the bottom of your tree; spread the color into a little hill. Now let the whole thing dry completely.
As the last stamping step, ink up your sentiment with the darkest green from the Color Fuse Ink set you used and stamp it over the hilly area at the bottom of your card.
Cut this panel with one of the dies from our Outside Scallop Frame Die set and adhere it to a white card base with some foam tape adhesive for a little dimension.
These are just SO pretty! And Melinda says she likes to batch make these and we can see why! If you'd like to make some, here's what you will want from our store: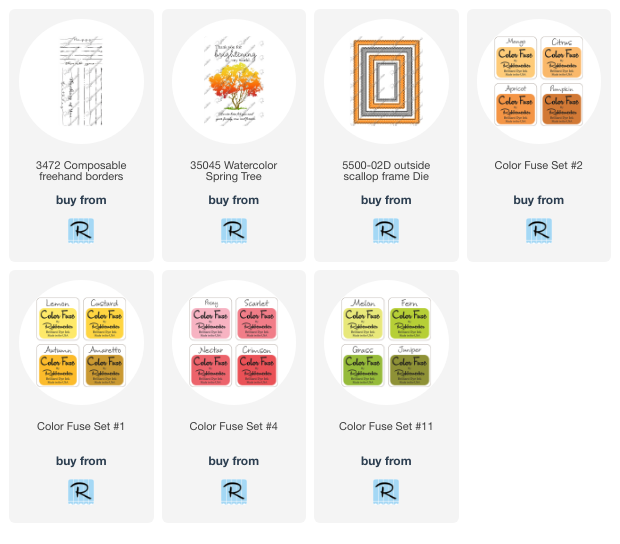 We think this ink and spritz technique is such genius when you want that watercolor painted look in a flash. Of course Melinda makes it look easy but with inking and spritzing, it CAN be easy! Give it a try and let us know what you think.