Looking for gnome Christmas cards to make this year – look no further!
If you've been searching for ideas for gnome Christmas cards to make for your friends and family, this card is practically perfect! It is ideal for batch making, uses just a handful of supplies and if you want to streamline it even further, there a couple of steps you can skip and no one will be the wiser.

Jamie made this for us today and she, as usual, is sharing all the steps for the making so you can get an idea of what is involved and know how to get it done. Let's get started!
To start, Jamie stamped the gnomes from our new Christmas Cheer Gnomes Set on white cardstock, colored them up with colored pencils and die cut them our using our new Christmas Cheer Gnomes Dies. If you plan on batch making this card, this is an awesome thing to do in front of the TV – pop on your latest guilty binge and color away in the heat of summer!

Next Jamie chose one of the patterns from our Snowflake Fun Slimline Paper Pad and cut a strip to span her top folding card. NOTE: With 24 sheets in the pad, you can make 48 of these cards if you set it with side fold. Cut the pieces in half on the long side and you will get two 3 1/2″ X 4 1/4″ sized panels. Your card will look a little different but it will still be spectacular!
She adhered her piece to a red card base. She then applied two strips of Extreme Double Sided Tape – you can use your favorite strong hold tape – above and below the strip on the card base, removed the backing and sprinkled glitter over the tape. Note: this is one of the steps you can skip if you choose and your card will be just as adorable!
Next Jamie cut white cardstock using our Quilted Stitch Pierced Cover Die and then cut that again using one of the dies from our Nested Circle Stitch Die Cut Set. Using that same die and the next largest one in the set, Jamie cut red cardstock to make a little frame. NOTE: If you want to use this cute gnome Christmas card as your batch making design, here's a little time saving tip. Instead of cutting a frame, just cut your red cardstock with the larger circle and center your white circle over it. The look will be a little different because this assembly will be flat but again, the results will be just as charming.
Jamie also use the same inner circle die to cut a piece of acetate because on her card, she wanted a window effect. If you want to skip this step you can – you just won't have that fun gloss in the background. Glue the white circle to the center of the decorative paper.

Time to assemble! Jamie adhered her white circles to the center of the card and then added her little red frame with some tiny pieces of foam adhesive. If you are going the step saver route, simply layer your red and white circles together and adhere them to your card(s). If you are using the acetate circle, add that to the circles with a piece of adhesive in the center, to be hidden by the gnomes. Then Jamie added her happy gnomes with another piece of foam adhesive and her card was ready to zip off to someone special!
Note in the photo above, Jamie made one for us without the glitter strips – see how cute it still is? Here's what Jamie used today: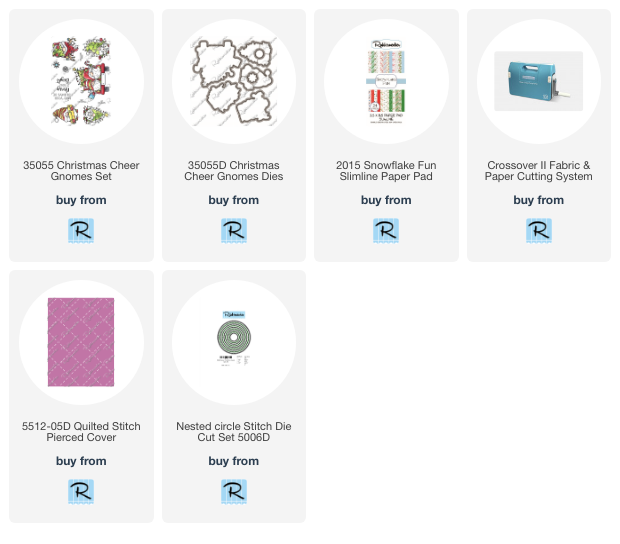 There are plenty of ways you can change up these gnome Christmas cards to make one of or a whole stack and we are pretty sure Jamie's cute interpretation will get you inspired!