Did you know you can pop a handmade tag on a card for an instant greeting ready to send?
Today, Ricky is share how he used a handmade tag on a card for an instant two-in-one project and we are so here for it! We love projects that are double duty and this one is perfect for the holidays. We can see us making a big stack of these adorable handmade tags and then having them at the ready when the holidays are here. Let's dive in!
First, Ricky made his oh-so-cute tag. If you love coloring, batch making these adorable handmade holiday tags would be such a good thing to get started on in the summer heat. Stamp a stack, plop down in front of a fan and just color away your troubles.

Ricky stamped his choice of images from our new Laughing Snowmen set with Copic friendly ink and colored them up. You, of course, can use whatever your favorite coloring medium is. PRO TIP: when using lighter colors, heat setting your black ink can help prevent bleeding.
When he had them all colored, Ricky cut the images using our new coordinating Laughing Snowmen dies.
Next, Ricky stamped his sentiment. He stamped it with embossing ink – like Versamark – onto black card stock and heat embossed it with white powder. PRO TIP: As much as you want to get a good, even impression, when you are stamping anything with fine lines, don't press too hard. You can "moosh" the image and then you will end up with an unreadable image. It's so easy to do so just be mindful when you are stamping these delicate details.

When Ricky had stamped his sentiments, he trimmed them into neat rectangles.
Now Ricky took one of the sheets of festive winter patterns from our Snowflake Fun Slimline Paper Pad and cut some tags using the middle sized die in our Holiday Tags Die Set. He adhered his little die cut elements and his sentiments to his tags using liquid glue to give him time to wiggle everything perfectly into place.
Now he had tags he could use on gifts, or, as we are seeing below, into a gorgeous holiday card!
For his card, Ricky made his card base out of white card stock and using low tack tape on the inside of the card, affixed it to his work surface. He then laid our Circles Weave Pattern Stencil over it and taped that down, too, to keep it from shifting and to help the folded card stay flat underneath.
Using Arctic Color Fuse Ink from Set #7, Ricky blended the ink over the stencil, not worrying about getting everything perfectly even. You can see the beautiful variation in the coloring and how it seems to add some wintry movement to the background with the uneven application.
Now to turn his handmade tag into a card, all Ricky had to do was pop the tag onto his stenciled card base with a little foam tape adhesive and it was ready to go out the door!
If you want to make a stack of these adorable tags for your gifts and also have them ready to turn into the cutest holiday cards, here is what you will want from our store: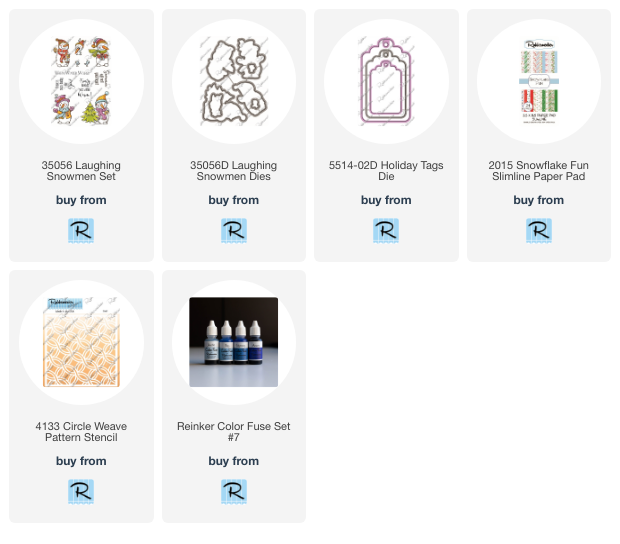 Of course there is no real "magic" to using a handmade tag on a card but we really love Ricky's take on both the sweet design of these tags and then the masterful way he used a simple stenciled background to take them up a notch. This idea is a keeper!