We thought it might be fun to do a Stamper's Halloween Countdown 2020 so welcome to the kickoff post! We will offer a fun Halloween themed project for the next 13 days so check back every day for fun projects showing off the season with some cute Halloween specific ideas.
Today, Michelle is kicking us off with some projects focused on the gorgeous shades of Fall and Halloween using Color Burst and a few of our classic silhouette stamps.
She tried out three different techniques so get comfy! First up, this beauty:
She started by dampening a sheet of watercolor paper – here she used Neenah Felt Ultra White – with a mister or a brush. Then she simply sprinkled little shakes of Color Burst onto the surface while it was still wet and let it dry completely before stamping a background stamp and silhouette stamp in crisp black.
She echoed the black with a die cut frame and with her little black embellishments on the card. We think it's totally striking!
Now on to this equally stunning card:
This time Michelle shook her Color Burst powders directly onto a piece of the same paper and used a mister to spritze water over the dry powder. We just love that look of "motion" from the powder being moved by the water! After letting it dry all the way through, she used the fern stamp to "cradle" her scarlet area. She made another black frame and layered the whole thing onto a black card base. To enhance the feeling of motion, she added some black sequins around the other side of that glorious red.
And last but certainly not least:
Starting again with a dry panel, Michelle sprinkled a few shades of dry Color Burst onto her paper and used a wet paint brush to lightly "smear" the powders over the panel to create those brushstrokes. After a thorough drying out, she used this quote stamp as her focal area. She cut a frame and a mountain outline from black to adhere to the front. PRO TIP: Use any edging die to cut an outline by running it through your die cutting machine and moving it up (or down) by however thick you want your outline and run it through again using a piece of washi tape to hold it perfectly lined up with the first cut.
She mounted everything on a black card base and we just love it!
Here are the things you will want to pull out of your stash or add to your card to make this trio of spectacular Fall cards!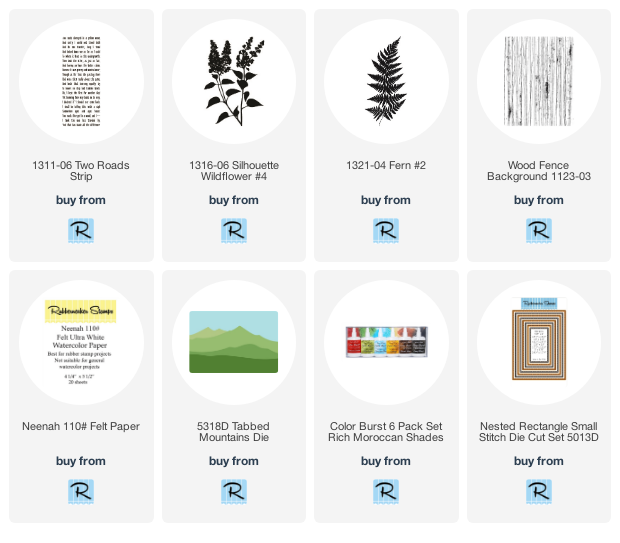 We invite you to check back every day for our Halloween Countdown 2020 to see a whole array of inspiring projects to get you in a happy-for-the-season mood!