We have lots of fun tools to make Halloween die cuts like this and this and even more here but one of our all time FAVORITE sets of Halloween die cuts are our brand new OWL COSTUMES! Is there ANYTHING cuter than a little owl all dressed up for trick or hooting, we mean treating?
We intentionally designed these dies to cut all the pieces at once to help make your die cutting faster AND to help you NOT lose any of the little detail pieces. Our customers tell us all the time how glad they are we make our dies this way and we are so glad YOU are glad!
Lisa is our designer today and she shared that when she makes cards like this cute one today, she starts by cutting each set multiple times using different colors of card stock. PRO TIP: put your different groupings of die cuts – here owl parts and costume parts – on sheets of white scrap paper so you can spot all the parts and pieces without them "getting lost" on your tabletop.
Then you can pick through all the pieces, mixing and matching colors until you have your little buddies' components in little piles. Lisa shared that as she does this, she roughly sorts her parts into different piles, such as all the eye pieces here and the bellies over here…… This way, she can quickly make some additional little characters for future projects using the additional Halloween die cuts she made in this session.
The she started assembling! She put her little guys together with liquid glue and dimensional adhesive to add that depth and dimension.
PRO TIP: Lisa shared that she had some pieces that she wanted to be black that were cut in other colors, like those eyes. So she just grabbed a Copic marker in black and colored 'em in. Smart, huh?
Lisa cut a background panel using the Slimline Solid Deckle die and added some clouds using a strip cut using the Slimline Clouds die and purple, green and orange ink. PRO TIP: Cut shapes from heavy weight card stock or a reusable material and store with your dies to use as stencils for inking.
She layered her cloud panel on white, then onto a layer of purple and finally on black.
Next she added the trees. We LOVE how she mixed two different styles of tree, one from the Owl and Halloween Tree Die and Spooky Tree; they look SO good together! She evenly spaced three Halloween Trees on the card using dimensional adhesive and placed the Spooky trees in between with slightly thicker dimensional adhesive. PRO TIP: If you don't have different layers of thicknesses of dimensional adhesive, double it up!
Now add the owls with even more dimensional adhesive.
Lisa tipped the owls at angles to give the card some "motion".
She was sure to space them evenly across the card front. This even spacing of the trees and owls gave the card some "order" and the different look to the tree branches and angles of the owls gave it some fun motion.
She embossed the Happy Halloween greeting on purple in white and cut it into a banner shape. A few sequins and this Happy Halloween card is ready to go!
Here are the supplies you will need to make all these Halloween die cuts to create this adorable card: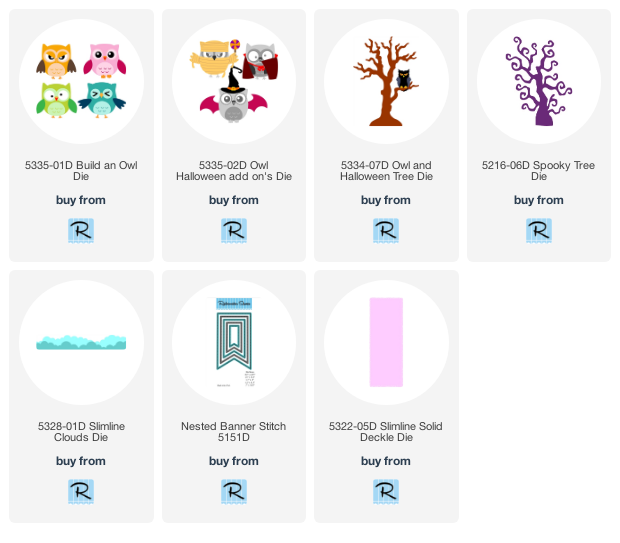 Are you inspired to start creating some projects using Halloween die cuts? We love the way you can mix and match and go to town with these particular owls and their adorable costumes – don't forget to check out the Christmas dress up die for these little fellas, too!