Happy Halloween cards range from spooky to cute and everything in between. This awesome ombre background Halloween card with a cute scarecrow sits right in the middle, don't you think? That ombre background sure sets the tone and the addition of all those adorable die cut details give you plenty to look at. AND, this card could EASILY be converted into an A2 card – just trim the background slimline insert die cut and place the greeting over the cut line and decorate above or below with as much as will fit.
Here's how Annie made this for us today. First she took a piece of white cardstock a little larger than the Slimline OPC (One Piece Cut) Diagonal Die and using her favorite blending took, applied three shades of Color Fuse ink – Magenta, Crimson, and Apricot – and blended them down the die cut until she had the look she wanted. Color Fuse inks blend BEAUTIFULLY as you can clearly see! Then she cut that panel using the die.

Then she cut all her adorable details. PRO TIP: Cut some of the details with shimmer card stock. It is coated so markers won't really blend on it but you can add details and that shimmer adds a super fun effect!
Annie used the Scarecrow die, the Jack-O-Lanterns die, the Owl and Halloween Tree die, the Bats and Spiderweb die, the Cats die and, in a stroke of GENIUS, die cut silver vellum using the Camp Fire die and used the two largest flame die-cuts as ghosts! She put her little characters and scenes together with liquid glue and used her Copic markers to add some details and shading.

Then she added the Happy Halloween sentiment by stamping the greeting and cutting it out with the smallest die from the Nested Deckle Rectangle Dies. PRO TIP: See how her greeting panel is smaller than the die cut? How'd she do that? It's easier than you would think. First, place the die over the greeting using the upper left hand corner as your guide and run it through your machine. Now, do the opposite and position the die using the lower right hand corner as your guide and run it through again. Voila! Perfect edges on a smaller shape!
To add a little more of a spooky vibe to her background, Annie adhered her gorgeous ombre panel to a piece of black card stock cut to fit behind the diagonal openings. She used dimensional adhesive to add some cool shadows. Pop that onto a slimline card base, add your die cut critters and creations and you've got a KILLER Happy Halloween card!
Here are the goodies used to make this awesome project: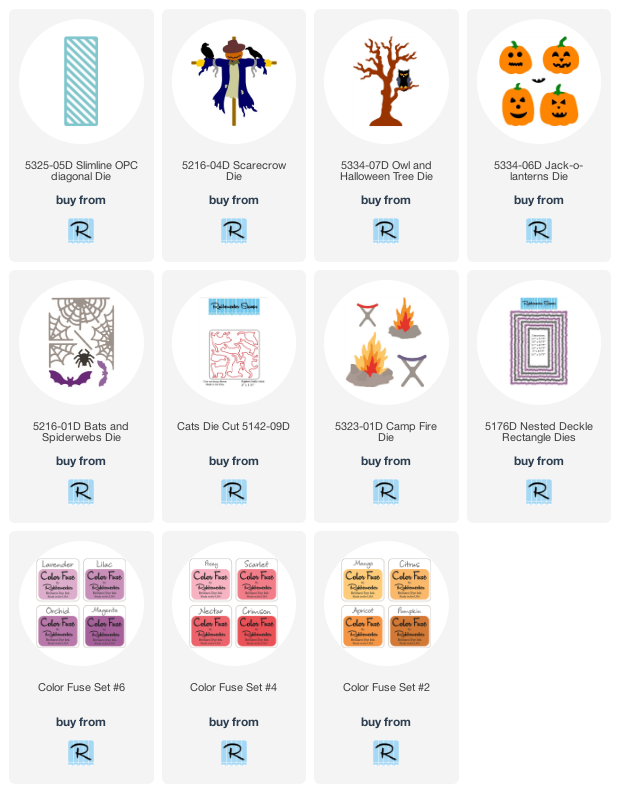 Are you sending any Happy Halloween cards this year? We've heard from a lot of people that trick-or-treating has been cancelled in their areas so they ARE sending some sort of Halloween greeting to keep the fun going. So think if there's anyone YOU know who could use a Happy Halloween card and whip one up for them!