See how easy it is to make this colorful hand stamped rainbow butterfly card!
Today's spectacular hand stamped rainbow butterfly card is brought to us by Ricky, whose sense of humor always has us chuckling to ourselves as we read his instructions. Ricky was inspired to create this gorgeous project by June being Pride month. Ricky says "While we celebrate pride all year long, June is traditionally the month of celebration. Opening your world to all different colors makes it a better place!" We agree!
Let's get into the steps for the making so we can apply some of Ricky's tricks to our own cards.
To start, using the middle tag from Holiday Tags Die, die cut it from a piece of kraft card stock.
Using the Butterfly die, cut out the outlines with black card stock, and the base out of white card stock. Gather your favorite Color Fuse inks and blend them onto the white butterfly base. PRO TIP: To make a rainbow effect, you only need red, yellow, blue and purple. Orange and green magically appear between red and yellow and yellow and blue. From Ricky "It is like natural science or something." (See what we mean – he's a hoot…..). Here's the progression of the inking Ricky added to his butterfly.
Now Ricky adhered the black layer of the butterfly's wings to the base, but only on the center abdominal piece of the butterfly so that the black wings stay detached from the base for a touch of dimension.
For his tag, Ricky laid our Circle Weave Pattern Stencil over the tag on a diagonal and then used a slightly darker shade – in his case, Mocha Color Fuse Ink from Set #3 – over the tag somewhat unevenly to create more depth in the pattern.
Ricky chose his sentiment from our Sunflower Beauty Set – this card is all about the color! – and stamped it with black ink onto his tag.
He then took a piece of white card stock cut to card size and using black ink, splattered the entire panel. While that was drying, Ricky looped some twine through the hole on his tag, opting to keep the twine straight this time instead of tying a bow. He adhered his tag to his splattered panel with some dimensional foam adhesive and then used some liquid adhesive to position his rainbow butterfly onto the corner of the tag.
Here's what Ricky used today to make this gorgeous project: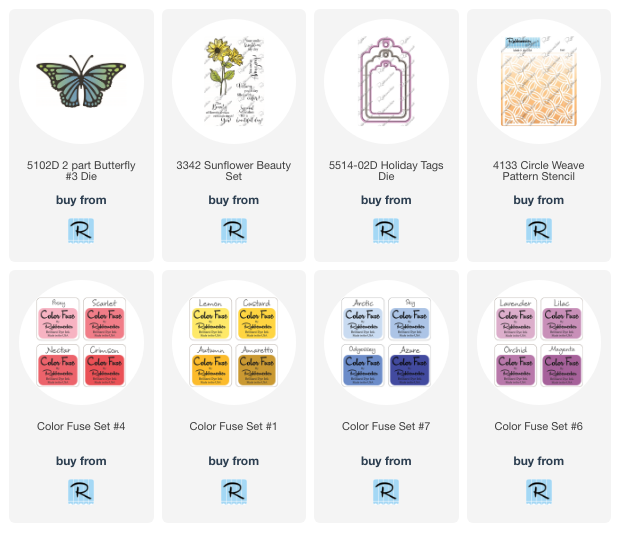 We can think of so may occasions for which this glorious hand stamped rainbow butterfly card would be just perfect – it's so colorful and cheerful! What would you use this card for? Tell us in the comments – we love to hear from you!