The gorgeous handmade Autumn cards are made even more beautiful with the double use of an ombre look!
This month's theme is all about handmade Autumn cards and this one from Lisa is just about one of the most quintessentially golden glowy cards we've seen. We absolutely LOVE the double ombre thing going on and of course Lisa has shared all her tips for the making of this beauty. Shall we get started?
To begin, Lisa picked out a watercolor gel print that she'd created earlier but didn't really care for. She says "I never throw them away… sometimes they just need some extra layers!" So, layer she did! She placed our Damask Stencil over the panel and applied shades of Color Fuse Ink from Set #2, starting with her darker shade and working gradually to the lightest, roughly from upper left corner to lower right. Ish. This is not a precise application so let your vision be your guide! When she was done inking, Lisa cut this with largest die in our Nested Rectangle Small Stitch die set.
Then, to add some dimension and a hint of sheen, Lisa lined the stencil back up over her inking and applied some Translucent Texture Paste through it with a palette knife, setting it aside to dry completely.
Next, Lisa stamped the layers from our Like a Sunflower set following the stamping guide with her own picks of colors. Lisa says "I wanted a reddish brown flower which were always my favorite to grow." That's the beauty of having all the Color Fuse Ink colors – you can customize all your creations to your own favorite shades.
Here's a fabulous PRO TIP from Lisa: "When I stamp layered stamp sets, I pick out a distinct area of the image to help me easily line up each layer. I indicated on the pic which petal that was that was easiest to pick out for lining up." AWESOME tip!
Lisa then fussy cut the flowers and, to add more dimension to her blossoms, used a trio of Zig markers to build some more color and shading on these bright beauties.
For her ombre sentiment, Lisa used her stamp positioner and inked up her stamp at one end with her lightest shade and stamped onto a scrap of white card stock. Without removing the stamp she added her middle color ink to the stamp from the center to the end and stamped. And finally, she added her darkest shade just to the end of the lines on the stamp and stamped. Starting with the lightest ink first means you don't have to clean off the stamp since the darker shades will "color over" the light ones.
Lisa cut this piece with the second smallest die in our Nested Banner Stitch set.
While she had her die cutter out again, she cut a piece of brown card stock with one of our Inside Scallop dies and popped it onto her inked background with some dimensional adhesive. She then cut a card sized panel of the same brown and layered her inked panel onto it with her tape runner, then attaching that to her card base.
Now she arranged her sweet sunflowers over the card using varying thicknesses of dimensional adhesive and popped the sentiment over them, adding a few gold sequins for a touch more shine. Just GORGEOUS!
Here are the items from our store you will want to have on hand to replicate this card at home: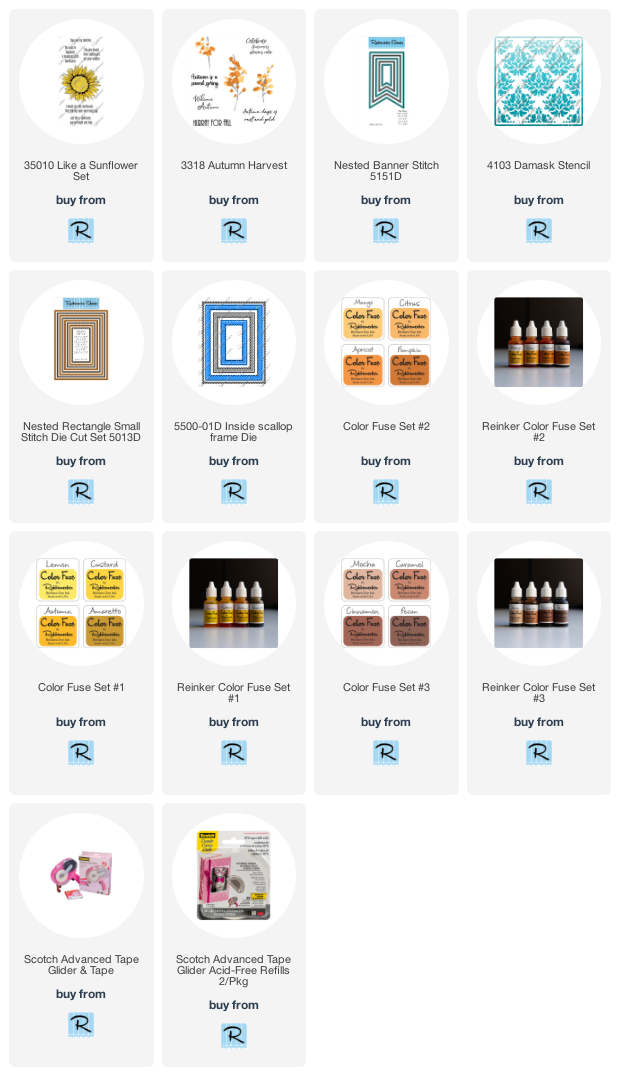 This is such a beautiful example of handmade Autumn cards that have so many pretty details and give you that warm, cozy Fall feel. Is this a design YOU are going to try out?