This totally versatile handmade black-eyed Susan card is fast and easy – make one, make a stack!
We are in love with this handmade black eyed Susan card – it's easy to make, perfect for batch making and you can change up the background so easily just by swapping out the ink color. Melinda created this for us – here's what she shared about this beautiful card. "Fall is truly my favorite season!! I love to have flowers in my garden as many seasons as possible and my Black Eyed Susans are a flower that blooms through fall where I live."
Let's get a peek at Melinda's details so we can make one of these ourselves!
Start by using our Cone Flower die to cut some heavy weight white card stock. PRO TIP: Melinda suggests using heavier weight card stock when doing a lot of ink blending for superior results. While you are die cutting, cut a regular piece of white card stock with our Diamond Stitch Cover die.
Make the background first so you can let the adhesive dry while you make the flowers. On a card panel sized piece of white card stock, stamp the bird strip from our Bird/Rose Background Strip stamp set using Arctic Color Fuse ink from Set #7. These strips are perfectly sized and designed to line up easily to stamp twice to cover a basic A2 card panel.
Adhere the Diamond Stitch Cover to the stamped panel with liquid glue and weight it down so it stays nice and flat while it dries.
Now make those beautiful black-eyed Susan flowers. Starting with your lightest yellow ink, blend it over the flower from the center out. Melinda used Custard Color Fuse ink from Set #11.
Then add some light orange – here, Autumn from the same Color Fuse Set #11 – from the center out about two thirds of the way.
Add your red – Scarlet from Color Fuse Set #4 – to just the tips of the petals.
Now add your dark brown to the very centers of your flowers – Melinda chose Cinnamon Color Fuse Ink from Set #3.
Blend your choices of greens – Melinda used shades from both Color Fuse Sets #10 and #11 – onto the stems.
Stamp your sentiment onto a scrap of white card stock – Melinda used "You Are My Favorite" from the Someone Like You stamp set and trim or die cut it to a close shape.
Add your flowers to your background and pop up the sentiment with a touch of dimensional adhesive and – VOILA! – gorgeous card!
Here are the items from our store that Melinda used today: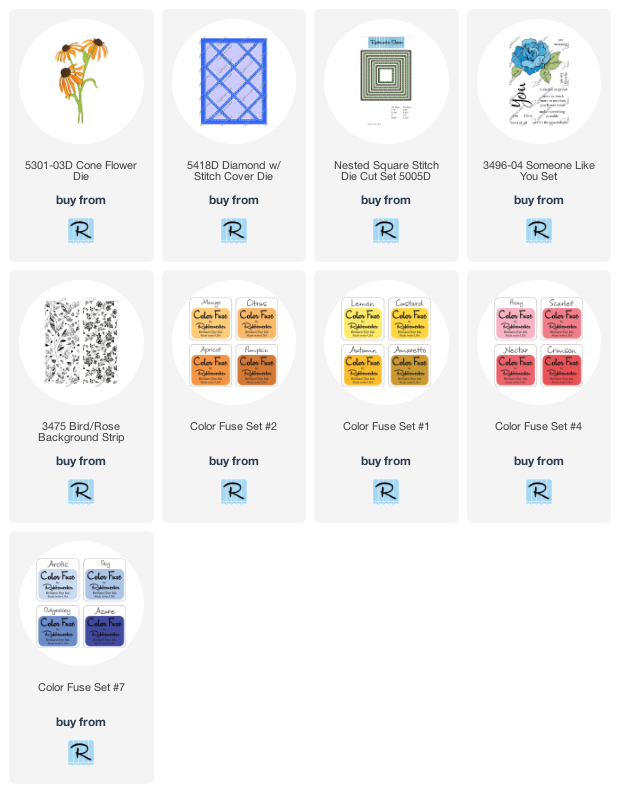 nbsp;
We love the look of the bright flowers against a subtle background on this handmade black-eyed Susan card and it has us thinking about all the ways we can use this pretty project. What occasion would you send this for?