You will want to make a batch of these handmade gift tags for fall occasions – learn why they can do double duty!
Today we have some beautiful, bright and deliciously rich handmade gift tags for Fall from Natasha. These are so vibrant and modern and will look just spectacular tied onto any butcher paper wrapped package or plain kraft paper gift bag.
But handmade gift tags also do double duty in the most insanely easy way! Simply pop one onto a card base – maybe add a layer or two if you have time – and you have an instant card! You can even layer two together if they are smaller or add them with dimensional adhesive for extra style.
Now you really want to make these, don't you? OK – let's get Natasha's details and get started!
Start by using the highly technical method <snort> of "ink smooshing" with Color Fuse Inks to create your colorful backgrounds. Do this by adding a few drops of Color Fuse Refill ink (or swipe your cube if you haven't yet grabbed the refills) onto a glass mat and spritz with water. Lay watercolor paper into the ink, repositioning a couple of times, and remove. Let the paper dry completely while you clean off the glass mat so you can repeat this process with all the colors you want to have in your background.
PRO TIP: In between applications and at the end of your ink smooshing, spray the panel with water, let sit for about 30 seconds and blot the droplets with a paper towel. This adds lots of texture and depth!
When you've got your backgrounds done to your satisfaction and they are completely dry, cut them out with one of the dies from our Nested Tag Stitch set. Save the scraps for your sentiment strips.
PRO TIP: Unless a ragged, distressed edge is the look you want, always make sure your panels are completely dry. Cutting damp fibers can yield that feathery edge (and sometimes a very distressed look depending on how much moisture is in the paper), where dry fibers cut cleanly.
Use our Leaf Stencil here and there on each tag to apply your choice of ink; Natashe used a distress oxide spray. Using our Splatter Stains stamp, add some splatters in Color Fuse Ink colors you like to compliment your background colors.
Add some fall flower images – Natasha used our Autumn Harvest set – in complimentary colors. Natasha used Mango, Apricot and Pumpkin Color Fuse Inks from Set #2, stamping from lightest to darkest to build dimension.
Stamp your choice of sentiments onto the scraps of your hand colored backgrounds, trim into close strips and then edge these with Pecan Color Fuse Ink from Set #3 to add a hint of distressing. While you are adding this detail to your sentiments, add a little of this to the edges of the tags for that visual echo.
For hints of metallics, use our Honeycomb die to cut some scraps of card stock. Press them into an embossing ink pad and heat emboss with your choice of metallic powder. Also splatter some metallic paint or ink over the tags, if desired.
To finish these mini-masterpieces, adhere small pieces of the honeycomb die cut here and there on the tag. Adhere small pieces of frayed cheesecloth (Natasha "dyed" hers to match the colors in her background) to the tags and add your sentiment strips over the scraps with dimensional adhesive on the ends of the strips. Tie on some twine and these beauties are ready to use!
So striking! Here are the items from our store that Natasha used to create these: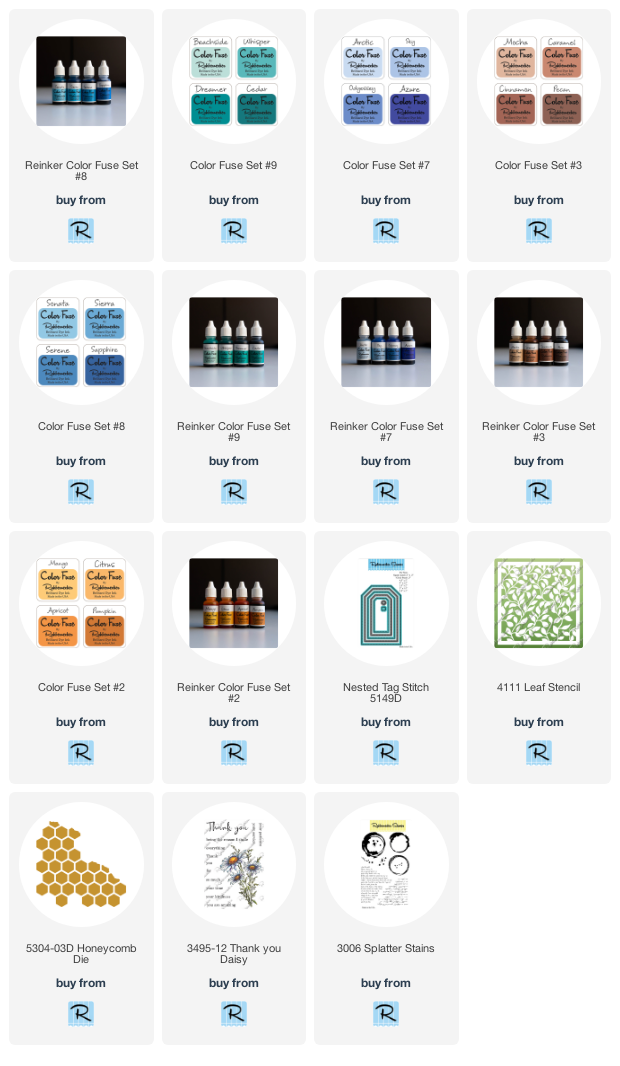 We can picture these handmade gift tags for Fall in all kinds of colors, with all sorts of different embellishments – the possibilities to use this design idea are endless!