This handmade card design is simple yet absolutely stunning!
A lot of people think handmade card design ideas have to be complicated or fussy to be truly beautiful and this card is proof positive that even the simplest, most elegant card designs can knock you off your feet. This card is so gorgeous and you can see how you can change up any or all of the individual elements to suit any occasion, color story, greeting, design motif – anything at all – and still have a final project that is just so lovely.
Annie was inspired by the beautiful golden colors of autumn as they start to fade. She says "I wanted to make one more card in their honor". Honor that golden glow she did! Here are her components to this card laid out so you can use this handmade card design idea to create your own gorgeous layouts.
1. Several versions of the same stamped and die cut elements in different shades arranged to one side.
2. A tone on tone panel to add textural interest.
3. A complementary colored gradient or ombre panel to add a more visual interest with color.
4. A simple greeting popped up for shadows, depth and to catch the eye, placed on the opposite side from the simple focal elements.
Let's take a look at how Annie created this precious project for us using these basic design elements.
First, Annie created her sprigs of Fall foliage using our Peaceful Elegance stamp set by stamping the five different layers onto white card stock using Fern, Lemon, Autumn, Juniper, and Caramel Color Fuse Inks in that order from first layer to last. We include a free layering guide for each stamp set using this layering technique to build details so it's really easy to follow along! For her light orange spring, Annie substituted Autumn and Apricot Inks for layers 2 and 3 and for the darker orange sprig, substituted Apricot and Nectar Inks for layers 2 and 3. Thanks, Annie, for this level of detail! When she had all her pretty foliage stamped, she cut all three out with our coordinating die.
Next, to create that gorgeous tone on tone textured piece, Annie cut a piece of kraft colored card stock to 4″ x 5 ¼" and stamped our Flowering Vine background stamp with Caramel Color Fuse ink onto it. She then layered this panel over a piece of mirror gold card stock cut to give just a whisper of a border and adhered both to her white card base, all with her tape runner.
Now for her golden glow on her ombre panel, Annie cut a piece of white card stock using the third largest die from our Nested Deckle Rectangles set. PRO TIP: We designer our deckle edge to offer lots of visual movement without any raggediness (is that a word?) that we've seen with other deckle edges. That makes this die set an absolute LBD – little black dress – in your collection because it can offer just that small hint of texture of an edge that works beautifully with just about any style of handmade card design.
Back to Annie's card! She blended Autumn, Apricot, and Caramel Color Fuse Inks over the panel using a blending brush with the palest yellow toward the top and the deeper, delicious echo of caramel tones at the bottom. She then smooshed – now that IS a word for us stampers! – Caramel and Cinnamon Color Fuse Inks onto her craft sheet (any non-porous work surface will do), added a little water and used a paint brush to pick up that liquid and then flicked it over the panel for those lovely, soft splatters. She then added that over her kraft layer with some foam squares for a hint of a shadow and some added dimension.
Now she used our Hello Script with Shadow dies to cut white and mirror gold card stock scraps and adhered the gold script portion over the white shadow portion with some liquid glue.
She added this greeting assembly and her gorgeous sprigs to her beautiful ombre panel with more foam squares to give even more depth and layering, emphasizing all the different textural elements on the card.
Here is what you will want to have out on your table to reproduce this card the way Annie created it: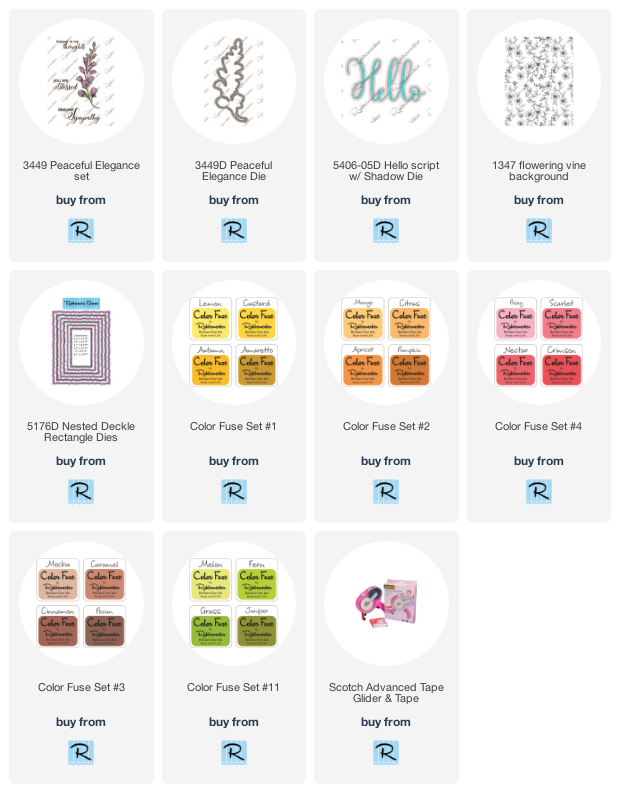 Remember, the beauty of this particular handmade card design is that you can – and we encourage you to! – switch out all of the elements to make your OWN design and you will have something truly gorgeous every time!