This handmade card in lavender and blue has a fun trick used on the sentiment!
So we think we can all agree that this handmade card in lavender and blue is an absolute knockout, right? Lavender and soft blue is a beautiful color combination all on its own. Used here with these beautifully detailed roses against that airy, fresh background – well, it just creates a mood that sings "Spring!".
We want to mention two things. First, due to technical difficulties (we've all had them), we don't have any pics of the new stencils being used on this card. We WILL have some soon and will link to them when they are up. Second, be SURE to check out that nifty little trick Allie used to make her sentiment pop just enough to make the word stand out in a special way.
Let's get started!
Stamp the roses using our new Someone Like You stamp set with black ink around a card panel sized piece of white card stock. Using our new Someone Like You Stencil, color in the different layers using the inks from Color Fuse Ink Set #6 – Allie used Lilac, Orchid and Magenta.
These new layering stencils are the MOST fun to use! They tie in beautifully with our layering stamps – we just applied the same fabulous theory to stencils. Our Design Team has flipped for them and we hope you do, too! We have four of these stencils sets that coordinate with four new stamp sets and we would love to have you try them out and let us know what you think.
After you've applied all that luscious color to your roses, stamp a few onto masking paper and cover them up. Use your favorite pale blue ink – Allie chose a pigment ink – to ink blend that sky into your background. When you are done, remove your masks and splatter a little white paint over the entire panel for some visual movement.
When this is completely dry – white splatters are cute, white smears not so much! – cut this panel out with the second largest die from our Nested Deckle Rectangle set. Now using the shadow portion of the You Script With Shadow die set, cut the center of this panel. While you are at it, cut the script portion from a scrap of white card stock. Adhere the script to the inked shadow piece with liquid glue.
Adhere your inked panel to a white card base. Adhere your word die cut back over the negative space with some dimensional adhesive. Stamp the rest of your sentiment onto a scrap of white card stock and trim into a neat rectangle. Adhere this to the front of the card with more dimensional adhesive, overlapping the "You".
SO pretty!
Here are the items Allie used today to make this absolute stunner: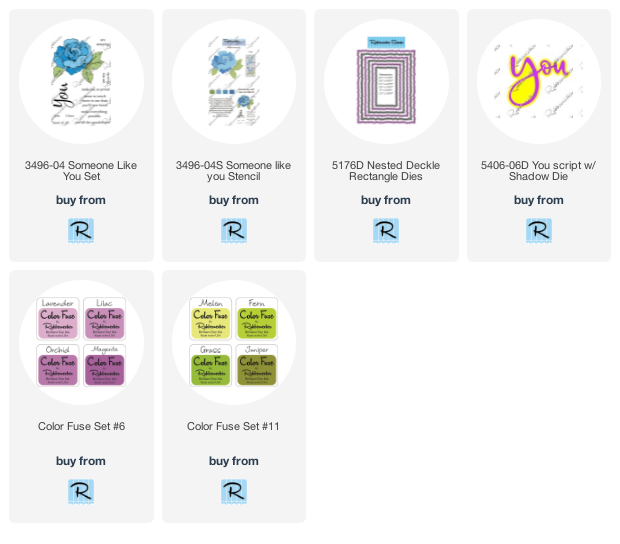 We can't get over how delightful this handmade card in lavender and blue turned out. And when you think about it, it's not that hard of a card to make! Our new layering stencils make the coloring easy and give you the chance to add even more color variations. And two simple die cuts add some pretty – yet easy – details!