Can you imagine someone opening this handmade card with blue roses, here in the dead of winter, where fresh flowers are few and far between? Picture their eyes lighting up when they see these beautiful blue blooms against that sparkly snowy background. Well you CAN make this card and today Renee is going to walk us through how.
Renee used our Fragrant Blooms stamp and coordinating die set with our Color Fuse ink to create these stunning, dimensional flowers. Our clear layered floral stamps all come with layering guides so you can stamp each layer with total confidence that you are "doing it right". And we specifically designed our Color Fuse ink shades within each set so that when you do use a layered set like this, each shade sets off the next one perfectly. Renee has shown all this off so beautifully with these winter roses.
To make roses like these, you will just stamp from lightest to darkest with the different layers and cut them out with the coordinating dies. Don't forget the leaves! And Renee uses a great PRO TIP here with her choice of color: choosing neutral shades, like the silvers and grays here, allow you to add the texture of the additional greenery but not take away from the impact of these lovely blues.
Because this is a winter card, Renee added a subtle snowy sparkle to her project by using our always-popular Snowflake Frame stamp to stamp Versamark onto white after using her anti-static tool on the white card stock. PRO TIP: Don't skip this step, especially in the winter. When it's really dry, static causes embossing powder to stray so this will help you get a nice, clean look. Then she heat embossed some sparkly pale blue embossing powder over her snowflakes for that beautiful background.
She then stamped her sentiment directly onto her card and arranged her die cut winter roses around it. When she was happy with her arrangement, she added them to the card with varying thicknesses of dimensional adhesive to get a lot of depth and dimension.
Here's what you will want to get your hands on to try this stunning card: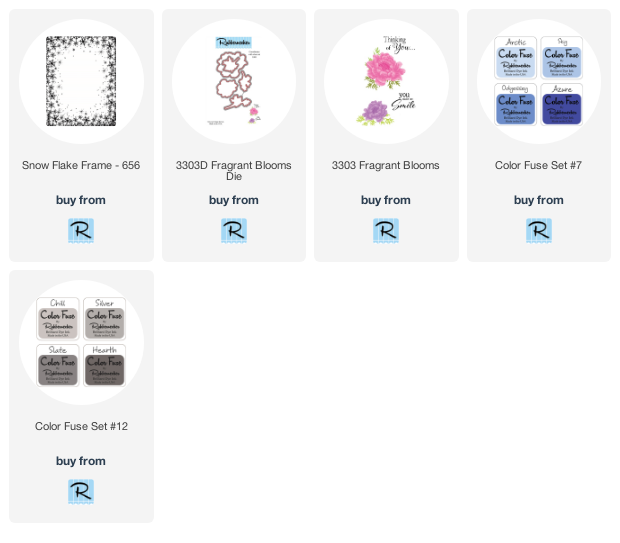 As we know roses come in all variations of colors and combinations of colors and we love to replicate them on our cards. We think this version of a handmade card with blue roses is a perfect winter card and we hope you make your own version!