If you are like a lot of us, our designer Melinda included, you have some washi tape that you just had to buy and now have no idea where or how to use it. Well, today Melinda is blowing our minds with this fun and fabulous washi tape technique that lets you create a totally custom look, actually USE some of your washi tape and end up with two gorgeous elements for two different cards.
First, make your background panels using Melinda's pretty polka dot method. Melinda chose her colors of ink based on the colors in the washi tape she chose – use the colors that work best with your washi collection. Cut your layers to 5 1/4″ X 4″ and stamp each one once using our Not So Many Random Dots background stamp with Color Fuse Mist, flip each panel 90 degrees and stamp again with Color Fuse Whisper.
Now, take your choices of washi tape and apply them edge to edge over a piece of card stock cut to 5 1/2″ X 4 1/4″ folding the ends under. You now have your "custom designer paper"!
Die cut this washi panel with a large, detailed die cut, as Melinda did here with our Bubbles Die. Cut two additional pieces of white card stock with the same die.
Take the die cut washi bubbles and adhere one of the white bubbles die cuts over it to add some definition to the edges. Adhere this to one of your polka-dot panels.
Now take the washi piece with the die cut out of it (the piece with the "holes") and trim if necessary to fit over one of your polka-dot panels; when you are happy with it, glue it down. Add one of the white die cuts over it to again define those edges and make the bubbles pop (no pun intended!).
All that's left are your greetings from our Thanks stamp set – stamp, trim into whatever shape you like and add them with some dimensional adhesive. PRO TIP: Curves love angles and vice versa so if you have a design where there are lots of curves, adding one element, like the greeting here, with straight and sharp edges, make the eye so happy!
TWO gorgeous cards out of one cool use of washi tape – isn't this great? Here are the things Melinda used on her fabulous projects today: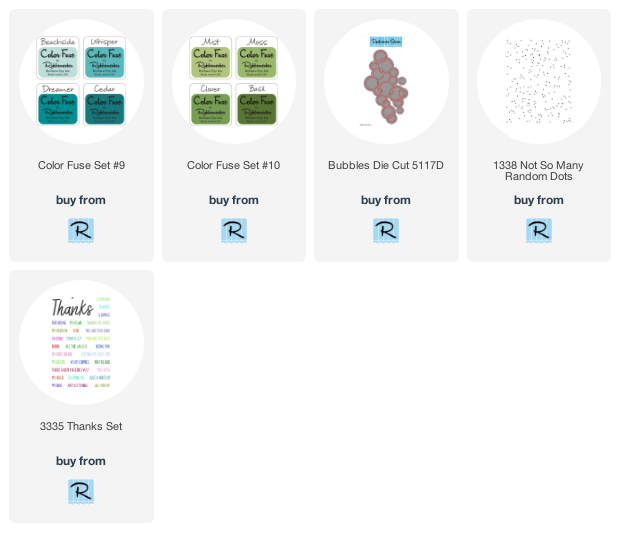 What do you think? Are you itching to try out this fun washi tape technique? If you DO try it, be sure to share and brag on our Facebook page – we LOVE seeing what you do!