It's the dead of winter and we are sure you know some people who could use a good chuckle – this funny homemade winter card is the perfect solution! Our quirky penguin adds just enough goofiness to the beautiful construction of this shaker card to make it saveworthy but also CRACK them UP!
Let's let Lisa take us through how she put this together. First, make your shaker window by using the largest of the Stitched Rectangles Dies (for the outside) and the circle from our Snow Globe Die. Place them on your card stock and then use a little of that washi tape you hate to hold them in place. PRO TIP: Make sure you place the circle so the stand will fit below!
Lisa chose an antique gold for her stand – it looks red in some of the photos but in real life, that gold really pops! Adhere the stand to the front under the cut out circle.
Now make your background. Take a piece of white card stock cut to your layer size and swipe it with your anti-static tool. NOTE: When it is very dry and cold it is even more important to NOT skip this step – the static will make your embossing powder scatter on your projects. Stamp the snowflakes from Snowmen With Presents randomly all over the Versamark and heat emboss with white embossing powder.
Use your favorite winter sky colors and your favorite blending tool and buff some color over your snowflakes in a circular motion. Lisa used colors from Color Fuse Sets #6 and #7 to get those pretty blue/purple tones.
Now cut the snowflake panel so it's larger than the snow globe window (to leave room for the adhesive) but stays hidden behind the whole piece. Here Lisa used a circle die that was slightly larger than the window.
Make your layers now – cut white card stock to 5 1/2″ x 4 1/4″ and purple to 5 3/8″ x 4 1/8″ and adhere together. Adhere your snowflake piece on the purple layer using your snow globe window as a guide to line it all up. Adhere a piece of acetate to the BACK of the die cut panel over the open circle. Adhere foam tape over the acetate, around the entire open circle, making sure the edges touch; add another small strip toward the bottom to add support to the panel.
Make some snowy hills using the Stitched Hills dies and white card stock, trimming them down so the fit inside the window and adhere with your favorite adhesive tape.
Stamp, color and cut out the penguin and adhere him on his hill using dimensional adhesive thinner than what you used around the circle (so he doesn't smush against the window!). Add your shaker filler around the penguin – Lisa used snowflake sequins – and add the window panel over the scene. Last, stamp your sentiment and trim it into the shape you like, add it to a little banner cut from paper you like with your ink colors and attach it with foam tape to your card.
Here are the goodies you will want to make this project.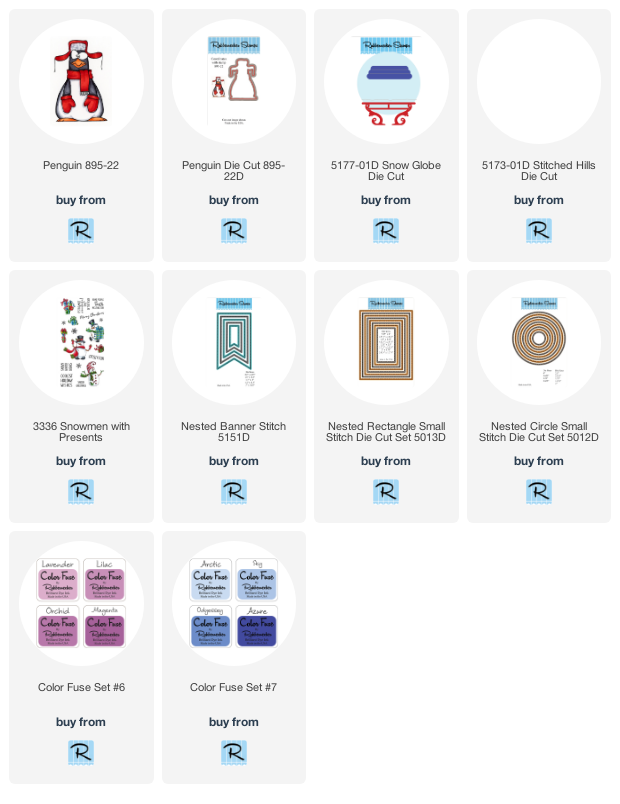 How much do we love a cute and funny homemade winter card that has a little extra to it?That this is a shaker card AND is quirky AND just looks so good, well, ding ding ding!