This handmade contemporary poinsettia card uses some metallic accents and touches of bright color to create a fresh and modern look.
This year one of the Christmas card trends that you will see everywhere is a contemporary look using colors of stone with bright, random touches combined with brilliant metallics. This card has all of that and more. Colleen created this handmade contemporary poinsettia card for us today and we can't wait to get the inside scoop.
Start by stamping our Twas The Night Background stamp with VersaMark over a card sized panel of black card stock and heat emboss it with gold powder. Using white ink or watered down white acrylic paint and a brush, flick some splatters over the embossing. When dry, use the edge of your paper snips or a distressing tool to distress the edges. Adhere this panel to a black card base.
Now, using our Poinsettia #2 die set, cut the pieces once from white card stock and once from cardstock weight vellum.
Use Clover Color Fuse Ink from Set #10 and your blending tool to add ink to the outside edges of the largest white card stock die cut. Next apply Custard Color Fuse Ink from Set #1 to just the edges of the other white die cut floral shapes.
Using VersaMark add ink to just the edges of the vellum die cut floral pieces. Heat emboss with gold powder. PRO TIP: To prevent the vellum from curling, allow your heat tool to warm up for 30 seconds before aiming at the powder. Also, alternate heating from the top and bottom of the die cuts, holding the heat tool a little further away and aiming the hot air away from the paper any time you see the vellum start to curl.
Adhere your modern poinsettia together starting with the green "leaves" on the bottom followed by the largest of the vellum and embossed piece. Continue to alternate the inked card stock and embossed vellum pieces.
When done, splatter some black ink over the whole flower and allow it to dry.
While your flower is drying, stamp several sets of foliage, berries and acorns using our Winter Wonderland stamp set. Colleen used Color Fuse Sets #10, #4 and #3. PRO TIP: To get a little dimension on the evergreen sprigs, stamp with a 2 or 3 shades of green. Die cut all your pieces with our coordinating die and use your favorite markers to color in the berries and acorns.
Stamp your choice of sentiment using Hearth Color Fuse Ink from Set #12 onto a scrap of white card stock and trim into a neat rectangle. Adhere to a scrap of black card stock and trim to offer a narrow border.
Now assemble your card! Adhere your contemporary poinsettia flower to the embossed card background in the lower right hand area and adhere your winter foliage, berries and acorns around the flower, tucking the ends in behind the blossom. Adhere your sentiment to the upper left area, aligning the left edge of the sentiment layers with the left edge of the background panel. Ta-DA!
You will see lots of fun, slightly funky, bold and dramatic contemporary cards like this in the 2022 holiday season so use this project as an inspiration to experiment with this style and see what you come up with. To make this card, here's what you will want to have on hand: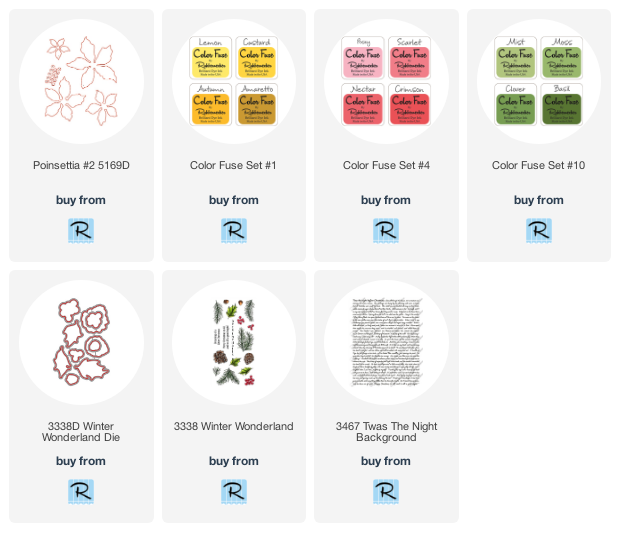 If you are looking to add a cool modern twist to your holiday greetings this year, save this handmade contemporary poinsettia card idea somewhere handy and be sure to check back every day for more fun holiday projects, tips and helpful information to get you started early.