Beat the heat with this mini slimline snowman shaker card to kick off our Christmas in July 2022!
We love this adorable mini slimline snowman shaker card! The photos just do NOT do this project justice! When you shake the card, the sparkly shaker filler adds a barely there but fabulously dramatic "snowfall" through those tiny windows in that mini slimline cover die. What a fun way to kick off our Christmas in July 2022 celebration!
Would you like to see how this was made? Let's go!
Start by stamping the snowman from our Snowmen With Presents set and the tree from our Woodland Animals #1 set in black ink on scraps of white card stock. Color them with your favorite medium and cut them out with our coordinating dies.
Using our Mini Slimline Cover #2 die, cut a piece of white card stock. Using the snowflakes from the Snowmen With Presents set, stamp snowflakes using Beachside Color Fuse Ink from Set #9 randomly over the front of the die cut panel.
Trim a piece of acetate to the same size as this panel and then add it to the back of the die cut. Trim a piece of light blue card stock to offer a whisper of a border around the white die cut. Now add thin strips of foam tape all around the edge, making sure each piece butts up against the other to prevent any of the shaker filler from escaping.
Place your shaker filler in a little pile on top of your light blue trimmed card stock, peel off the backing from the foam tape on your window panel and carefully align it over the blue and adhered them together. Alternatively, you can place the fillerd "in" the little window and adhere the blue over. Whatever is easier for you!
Cut a strip of the same blue card stock and adhered it over the shaker window about one third down from the top.
Stamp your sentiment in black on a scrap of white card stock and cut it out with one of the cute tags from our Small Tags die. Adhere this over the strip with some dimensional adhesive. Adhere the tree to the bottom of the card with tape or liquid glue and then add the snowman with some dimensional adhesive.
Accent with some Nuvo drops and you've completed your first Christmas in July card!
So adorable, right? We can also see this with some of the little creatures from that Woodland Animals #1 , #2 or #3 sets. Or even any of our cute gnomes! Or, oh my gosh, what about our Wintery Friends? 'Scuse us, we have to get stamping!
Here's what you will want to get your hands on to make one or a whole stack of these perfect winter holiday cards: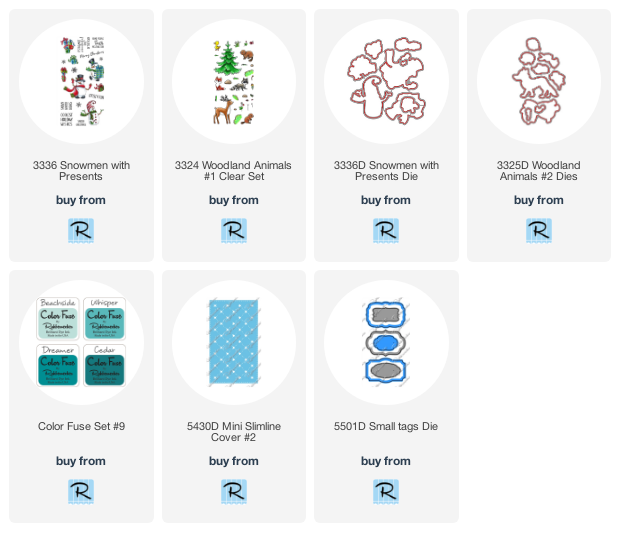 We are seeing all kinds of possibilities to use this mini slimline snowman shaker card as an inspiration point for lots of cute projects. What about you? Drop us a comment and let us know how you would dress up this idea!