Learn how to create this charming, handmade country style thank you card!
We are loving the trend of the farmhouse chic, refined country look and this handmade country style thank you card fits right in! From the pretty, botanical background to the wood grain details to the textural flower blossoms, this card has a lot to look at and it all works so perfectly together!
Let's get all of Lisa's insider tips and make one of these ourselves!
Lisa started by running a piece of the patterned card stock from our Harvest Time Paper Pad through her die cutting machine with our Quilted Stitch Pierced Cover to give it what Lisa says to her is a look of tile. We SO agree! She then cut that piece with the largest die in our Nested Rectangle Small Stitch Die set.
Lisa chose a sheet of the woodgrain card stock in the same Paper Pad and trimmed it to fill about half or so of the bottom of her background. She then trimmed a 1/4″ strip of the same card stock. She adhered the larger panel to the bottom half of her background with her tape runner and then added the strip at the top edge with some dimensional adhesive. She used her paper snips to trip the strip to the correct width.
Next, Lisa used our Large Garden Pots die set to cut her container from a scrap of white card stock, adhering the pot and the base together with some liquid glue. She used shades of brown Color Fuse Ink from Set #3 to color her pot, using a little darker ink toward the edges to create a subtle 3D look to the pot. She adhered her pot to the her card in the lower right hand corner with some dimensional adhesive, leaving the top area "open" to tuck in her foliage and flowers.
Using a solid wheat colored sheet from the Harvest Time Paper Pad, Lisa used our Sea Grass die to cut some fronds, trimmed the bottoms and tucked them into the pot, adhering the to the card with dabs of liquid adhesive.
She then chose a green sheet from the Pad and used our Branches and Leaves die to cut some more foliage details and tucked those into the pot, too.
Next, Lisa added her charming little country bird houses by using our Large Bird House Die to cut shapes from one of the dark brown sheets, adhered them together and then adhered some bitty scraps of black card stock behind the little doors. She added these to her card with more dimensional adhesive.
Now Lisa shopped her stash of previously made gel prints and found a piece in a soft orange. Using our Small Flowers #1 die, she cut a whole batch of all the sizes.
She then used her embossing tool and a foam mat and pressed in the centers of the little shapes to give them some instant shape.
She adhered two large flowers together, petals offset, and then a smaller one in the center to create very lush looking blossoms.
Lisa added these flowers to her pot and around the bird houses, keeping a few of the smallest ones aside. She added little yellow Nuvo drops to the centers of the flowers and let them dry while she made her sentiment.
After stamping her sentiment from our Colorful Vines set onto a scrap of white card stock, she used the smallest die in our Nested Tag Stitch set to cut it out.
To finish this adorable card, Lisa added her sentiment to the top left of the card with some dimensional adhesive and then popped on the last of her bitty blossoms and a few sequins for just a touch of sparkle.
Here are the items from our store that Lisa used today for when you get the itch to make this card:|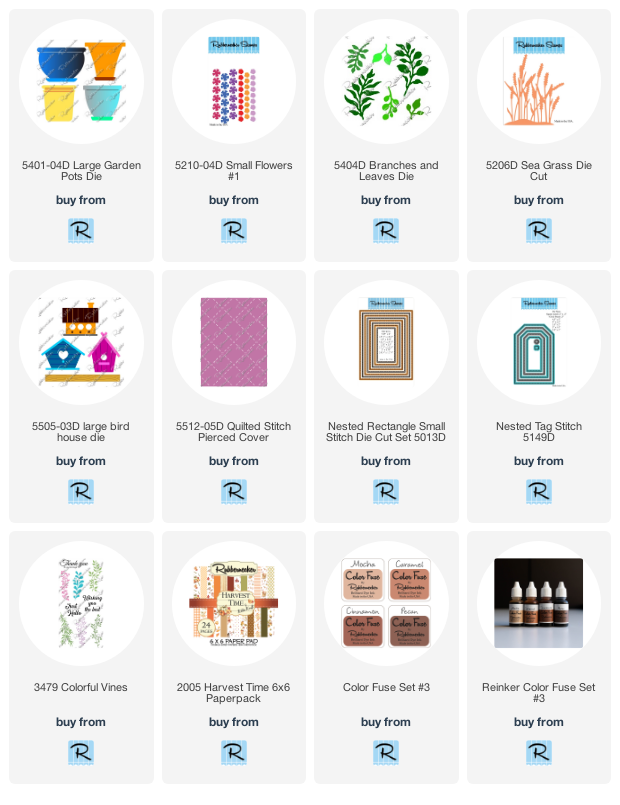 We just love all the warm and charming touches on this handmade country style thank you card and think it would be such a lovely way to tell someone how grateful you are for them!