Now for some cute and charming handmade die cut Christmas cards – let the dies do the work for you!
As we've mentioned, we have tons of Christmas stamps, dies and more in the store ranging from vintage style to contemporary motifs, from faith based to whimsical – and everything in between. Today, we've got an idea for handmade die cut Christmas cards from Jean that is so cute and so, well, almost goofy, it is sure to make anyone who takes this out of an envelope grin from antler to antler!
Jean has taken our Slimline Christmas tree die and assembled it in playful layers which she's accentuated with two of our cuddly reindeer. Would you like to learn more about the making of this adorable card? Let's go!
To start, use our Slimline Christmas Tree die to cut pieces of green card stock. Cut the layers again from white glitter card stock. NOTE: the white glitter pieces will be trimmed to make the snowy edges so you can cut just the bottom ends of each die to conserve your card stock. Using your paper snips, trim those white glitter pieces using random curves to create the look of snow. Adhere the "snow" to the tree layers with liquid glue.
Trim a piece of navy card stock to card size and roughly arrange your tree layers where you'd like to position them to choose where you'd like to stamp your chosen sentiment. Stamp that choice of greeting – Jean used one from our Christmas Phrases Large/Small – with VersaMark and heat emboss with white powder.
Using your pick of a die from our Slimline Hills set, cut a snowbank from the white glitter card stock you have leftover from your tree edges. Adhere this to your navy panel with your tape runner.
Assemble your tree as you'd envisioned, adding that playful bend to add the sweet playfulness of this project.
Now cut the characters using our Reindeer and Birds die and the packages from our Santa Mini set from your choices of colored card stock. Assemble these with liquid glue.
Add all your little die cut detail elements to your snowy scene with varying thicknesses of dimensional adhesive.
Pop a sparkly star at the top of the tree and this card is ready to go! Here's what you will want to use to replicate this adorable project: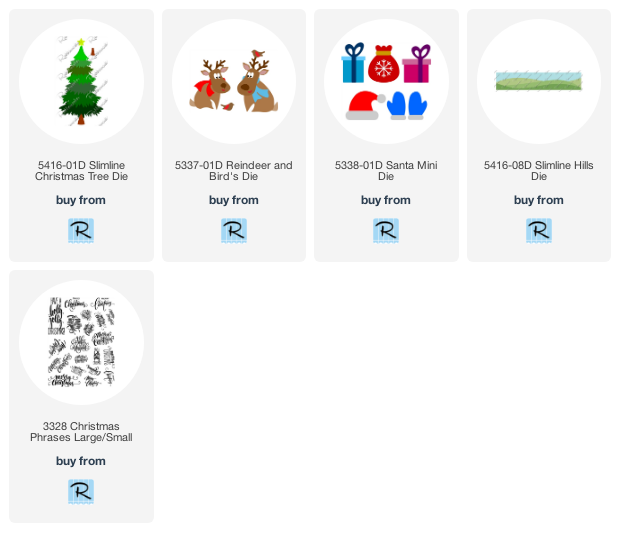 If you are on the hunt for more ideas for handmade die cut Christmas cards and other holiday projects, be sure to check back every day for more great ideas with our Christmas in July celebration!