These handmade poinsettia Christmas cards are very easy to make and the little extra details take them to a whole new level!
Every year we show off beautiful handmade poinsettia Christmas cards and this first 2022 project of this type kicks us off in gorgeous style! Carol created this for us today and we just love how she combined a few very easy techniques together to make a card that has a beautiful, frosted look that is totally on trend with the frosty nature theme that is all the rage this year for holiday cards.
Let's take a look at the making so we can "steal" Carol's great tips and use them on our own Christmas in July projects!
Start With Making the Card Stock Poinsettias
Die cut white card stock using our Poinsettia #2 die, once for each flower you want to make. Ink the largest petal with Basil Color Fuse from Set #10, using a slightly irregular touch to create some variegation and dimension on what will be the leaves.
To color the flower petals, ink the darkest shade from Color Fuse Set #4, Crimson, on the tips of the petals. Then blend some Scarlet in the middles of the petals, ending with Posey in the centers.
When the petals are all colored and dry (in just a few minutes), flip them ink side down on a foam pad and press the tip of a stylus to the backs of the petals. If you have a smaller ball on the stylus, use small circular motions to shape each petal into a gently cup. After shaping each petal on each layer, flip them over ink side up and use the same shaping technique to add a gentle "well" just to the center of each layer.
Using Fern Color Fuse Ink from Set #11, color the tiny poinsettia centers and use a small ball stylus to press firmly in the center of each one to make a defined cup shape.
Add the Details to the Poinsettias
One of the details that make these flowers so beautiful and enhance the frosty look are the variety of ink splatters Carol added to her blooms. The coordinating colored splatters add enough dimension that when you add the frosted splatters, they trick the eye into seeing lots of icy texture. "Cool", huh?
To make the splatters, use a Crimson Color Fuse Re-Inker to add a drop of ink to a craft sheet; if you don't have the re-inkers yet, smoosh your Crimson pad over the sheet to get a little streak of ink. Pick up the ink with a paintbrush and either flick the bristles or tap the brush on your hand to splatter the ink over the red petals. Repeat this process with the Basil Color Fuse Ink over the leaf layer.
Now add the frosty splatters! Scoop a small amount of white Perfect Pearls onto a craft mat, add a few drops of water and mix until thoroughly blended. Use the same flicking/tapping technique to add this all over both the red layers and the leaves.
Finish Your Flowers
Add a dot of liquid glue to the center of the leaf layer and position the largest red layer over it, offsetting the petal points. PRO TIP: Using liquid glue when assembling any die cut flower with layers gives you the advantage of some time to adjust, shift and tweak each layer before it "grabs" so you can get your arrangements just right.
Continue layering the petals until your blossoms are complete. Apply liquid glue in a "smear" in the center of the top petal and arrange your bright green centers over the adhesive. PRO TIP: If you want to make different sized blossoms, omit the larger layer(s) and build your flowers the same way.
Set these aside to dry thoroughly.
Make Your Card Base
Cut a piece of white card stock to 4″ X 5 ¼". Stamp your greeting – Carol used one from our Christmas Cheer set – in black ink. Run this panel through your die cutting machine with our Diamond Pierced Cover die.
Take a white card base and, to create a perfectly color coordinated layer, swipe your Scarlet Color Fuse Ink pad along all four edges of the card.
Using adhesive tape, add the pierced layer in the center of the card base. Add your blooms with more liquid glue and set aside to dry completely before adding a touch more frost with some pearly embellishments.
Isn't this card just so stunning? And how excited are you that it's totally doable? These flowers almost look like the vintage tin flowers that were so popular years ago, with the added element of that beautiful touch of frost.
Here's what you will need to make these knockout cards at home: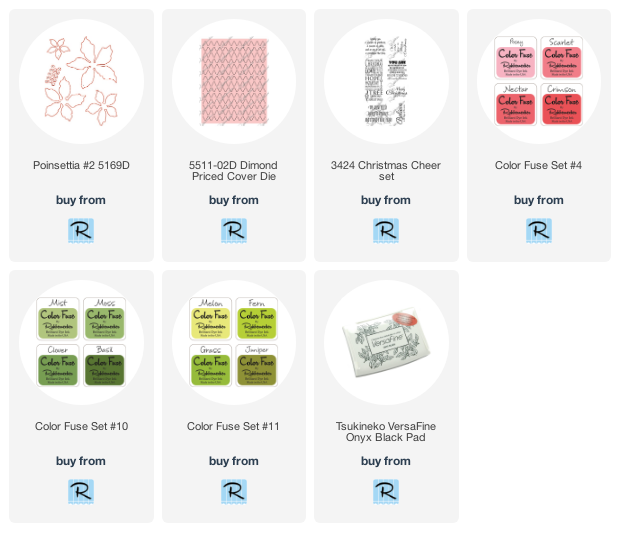 We are totally confident that you too can set a crafting session and turn out some of these handmade poinsettia Christmas cards to totally wow your friends and family this year! Drop us a comment and let us know if you are going to try these out!