Use your card making goodies to create cute handmade gift tags!
The leap from handmade cards to handmade gift tags is very tiny – you can use all the fun things you do for your cardmaking to make gift tags that you can add to gifts OR package up and GIVE as gifts! Who doesn't love pretty accessories when gift giving. And here's a PRO TIP from us to you all: Use plain old white or kraft paper as your go-to gift wrap and add a handmade gift tag as the only decoration. Fast, easy and super thrifty!
The other great thing about having gift tags that you've made with you card making supplies is that you can turn them into cards in mere seconds just by popping one onto a card base. It's a total win-win!
Since our blog theme for May is backgrounds and fun ways to use background stamps, Allie served up a fun technique that uses one of our background stamps for a beautiful effect. And she finishes these off with a sweet and soft surprise so let's dive in!
First, cut some tags with our Nested Tag Stitch die set from patterned paper. PRO TIP: If your patterned paper is lightweight, cut a matching tag from card stock and adhere them together with some adhesive tape. This makes them sturdier so they can hold up to the additional elements on these little magical projects.
Now stamp your all-over background stamp – here Allie is using our Rose Wallpaper and Vine Silhouette background stamps – on white card stock with Versamark and heat emboss with white powder. Use the same Nested Stitch set to cut this custom paper into tags. PRO TIP: you can get two out of each stamping if you use the second largest die.
Use your favorite ink blending tool and your favorite inks – our Color Fuse inks are just perfect for this application – and add a rainbow effect over the heat embossed tags. Use a paper towel or some Kleenex to wipe any ink off the embossed areas to reveal that glossy white design. When you are done, cut your holes in the tops of the tags.
Now, cut some butterflies with our 2 Part Butterfly #3. Take the bottoms – the solid shapes – and cover the wing sections only with liquid glue. Now cover those areas with flocking powder and pat gently to make sure it is all stuck down.
Cover the top parts – the detailed cuts – with shimmer pen, add rhinestones to the antennae and adhere the two die cuts together in the centers (the bodies).
Stamp your sentiments on some scraps and trim them down. Put your pretty handmade gift tags together by tying a patterned paper tag and a stamped tag together with some ribbons, attach one of your luxurious butterflies on the front, pop on your sentiment and if you like a little sparkle, add some rhinestones and/or sequins and you've got something gorgeous!
Aren't those all just so pretty? We really love the way Allie coordinated her flock, ink and ribbons! Here are all the other things that you will want to have out on your table to make these pretty tags: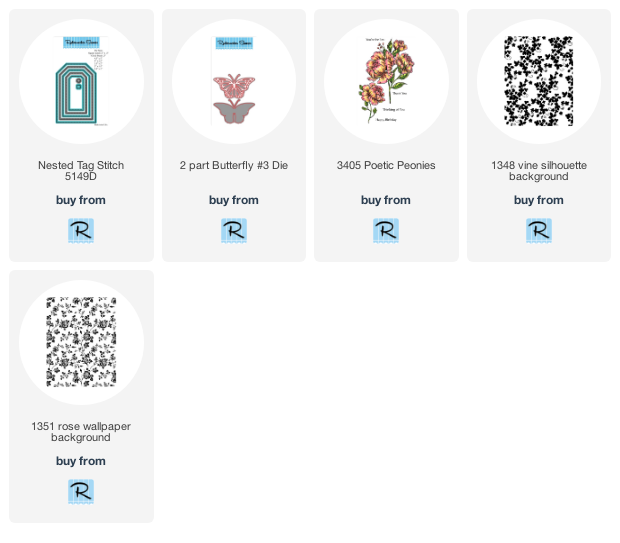 We are loving the idea of making stacks of handmade gift tags to have on hand. We are also thinking these could be a terrific way to use extra die cuts and embellishments that are orphans! Are you going to make some? Let us know!