When you see this idea for handmade non-traditional Christmas cards you just might make a change in your plans!
Classic poinsettias are an expected them for holiday cards and they are just lovely. That said, today's idea for handmade non-traditional Christmas cards features poinsettias in colors you don't find in nature and these are simply STUNNING. If you love a modern look yet enjoy classic motifs, this card is so up your alley!
Colleen says "What inspired me to create this card was a background I had made using the Rubbernecker Snowflake stencil, Splatter Background, and Color Fuse inks in Orchid and Whisper." She went on to say she just pictured our poinsettias as part of her vision and this is the result.
Colleen has even created a video for us so check it out below and then scroll down for her detailed instructions.
SO gorgeous! Here's how you can make one at home.
Create your background by applying Whisper Color Fuse Ink from Set #9. Lay our Snowflake Stencil over this and apply Orchid Color Fuse Ink from Set #6. Remove the stencil and ink up our Splatter Background stamp with VersaMark, stamp over your inked panel and then heat emboss with gold powder.
Now create your non-traditional colored poinsettias. Start by inking up our Twas The Night Background stamp with VersaMark ink and heat emboss with gold powder onto white card stock. Repeat on a second piece of white card stock. Cut both of your embossed pieces with our Poinsettia #2 die. Use the die to cut two pieces of heavyweight vellum. (You should now have four sets of flower layers; two white card stock and two vellum.)
Using Whisper Color Fuse ink, blend ink onto the just the edges of one set of white card stock petals, leaving the centers white. Repeat with the other set of white card stock petals using Orchid Color Fuse ink. While you are coloring, use shades of yellow from Color Fuse Set #1 to color your flower centers.
Take your Whisper inked petals and layer together starting with the largest vellum petal layer, then the largest inked layer, offsetting the layers so each petal point shows at the outer perimeter. Repeat the vellum/inked layering with all the Whisper inked petals. Repeat this process with your Orchid inked petals. PRO TIP: Even though it make take a teeny bit longer, using liquid glue for this kind of flower assembly gives you the advantage of being able to tweak the layers so each one is set just so.
When your unconventionally colored poinsettias are dry, add your yellow centers with more liquid glue and set aside while you make your quick greeting. Stamp your choice of sentiment onto white card stock and trim as desired. Layer onto a slightly larger scrap of white card stock and trim again to add a narrow border for a tiny bit of focal impact.
Gently shape and fluff your poinsettias for a little dimension. Adhere your sentiment and flowers to your beautiful background and admire your work.
Here are the items shown that you will want to grab to make this absolute knockout of a card: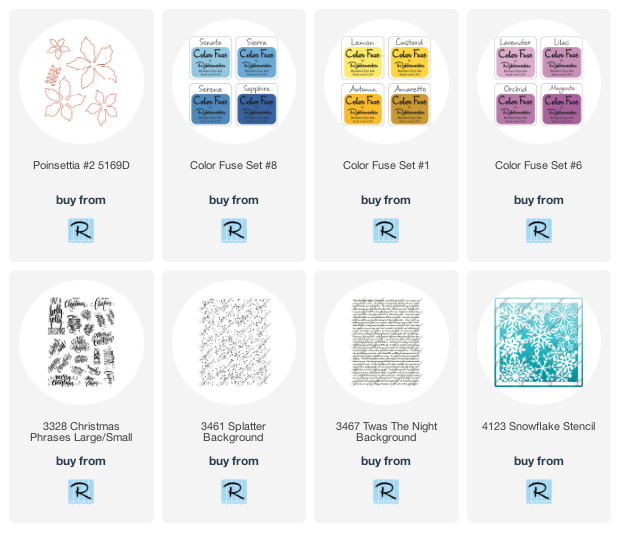 There is something so special about handmade non-traditional Christmas cards where you get to express your creativity in a fresh new way. Does this kind of take on a classic theme excite you? Let us know what you think!