Check out all the incredible details on this gorgeous handmade polar bear slimline card!
Today's detail loaded handmade polar bear slimline card is from Sammi. She says when she first saw these characters, she envisioned them against a frosty night sky and all we can say is "WOW!" – we LOVE it! Let's dive right in and see how she did it!
Sammi started by cutting out her white card stock background piece with our Slimline Deckle Die and ink blended the piece with inks from Color Fuse Sets #7 and #12. She then used some watered down white acrylic white pain to splatter some snow or stars – however you like – over the inked area. She then adhered her sky background onto a piece of red card stock cut to offer a very fine mat and then adhered the whole assembly onto a piece of kraft card stock also cut to add a thin border.
Sammi then stamped the three polar bears, three wreaths and some foliage from our new Polar Bear Friends stamp set with black hybrid ink and use the coordinating dies to cut out the bears and foliage. (Sammi used her Scan-N-Cut to cut out the wreaths.)

After coloring in her die cuts with Copic markers, Sammi cut out three circles from one of the designs in our new Snowflake Fun Slimline Paper Pad. Using foam tape adhesive, she added a circle to the back of each wreath.
Then, to create all that gorgeous depth and dimension, Sammi stacked some small pieces of the same foam tape together to bump up her foliage decorations on the bottoms of each wreath. And then to really add more visual interest, Sammi adhered her outside two circles with her tape runner and added the center one with more foam tape. This gives the card so much for eye to do!
Sammie added her polar bears to the circles with more foam adhesive. For her sentiment, she stamped it with black ink onto a white scrap, trimmed it down and then matted it with more red. She popped that up, too, over the other elements with more stacked adhesive and then used her tape runner to add the whole magnificent piece to a white slimline card base.
Isn't this SO fabulous? If you'd like to make this, too, here are the things you will want to grab from the store – remember, now through Wed, 7/12 at midnight, you get 15% off all new items!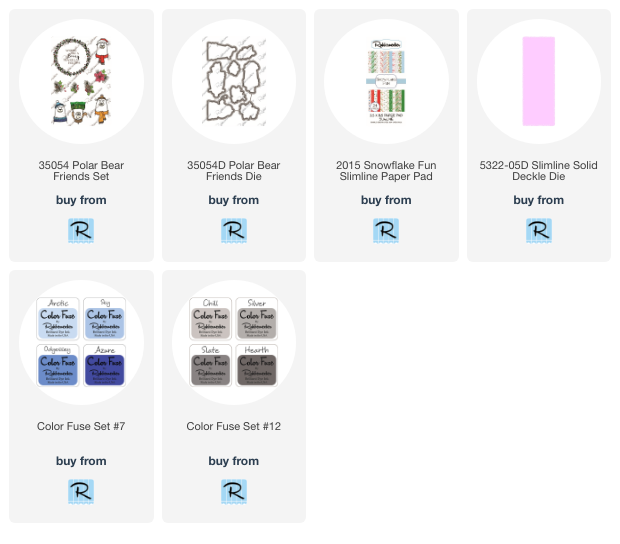 We are betting that this handmade polar bear slimline card would totally knock the fuzzy socks off someone special this holiday season. It's so fun, it's got so much dazzling detail and in the slimline size, you can tuck in that annual update letter with room to spare!